Upcoming Events > Featured Events
Kauai is proud to offer a variety of annual festivals, cultural celebrations, holiday gatherings, and community events and fundraisers. At these festivities you'll often find local musicians and entertainment, onolicious food selections, cultural displays and keiki activities. Browse our island's favorite events here and mark your calendars now, so that you too can experience what makes Kauai truly unique.
November 2018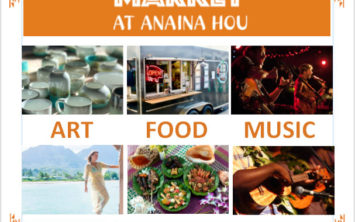 Featured Events

»
Saturday, November 24th, 4:00 PM to 8:00 PM
Anaina Hou Community Park,
Kilauea
Kilauea Night Market at Anaina Hou Art + Live Music + Food When: Last Saturdays of the Month, 4-8pm Where: Anaina Hou Community Park Kilauea Night Market is held on the last Saturday of each month at Anaina Hou Community Park in Kilauea. Previously called "Kilauea Art Night," this popular local art and crafts market offers live music and trendy food trucks, and features over 30 local artisans who produce: fine art, pottery, paintings, photography, apparel, jewelry, woodworkers and more!
December 2018
+ Export Events