E Kanikapila Kakou
Monday, January 21st, 2019 at 6:00 pm
–
9:00 pm
Event Navigation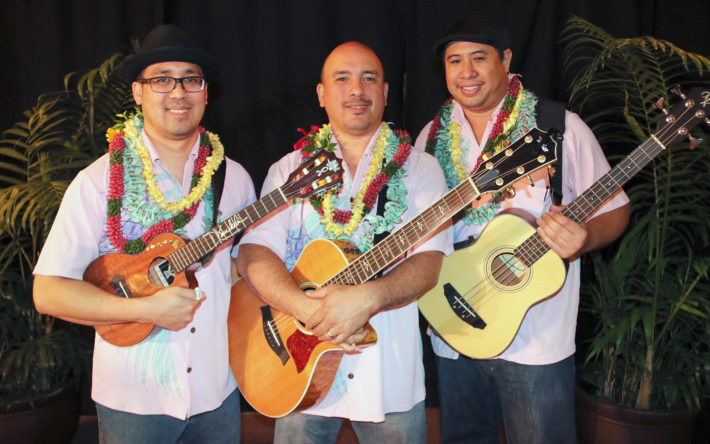 E Kanikapila Kakou enters its 36th season in 2019 with the theme "Music is Our Moolelo." Over the course of 10 Monday nights, starting tonight and continuing through March 25, guest entertainers from around the islands will share their stories of important events, places and people in song.
Week 1 starts Monday, January 21, when the hot, young trio known as Waipuna —  multiple Na Hoku Hanohano Award winners — bring their special sound to Kauai. They offer a fresh and contemporary energy to Hawaiian classics and to the island sound, preserving tradition while moving it into the 21st century. 
Members of Waipuna include David Kamakahi, an `ukulele virtuoso whose rise to fame started with his first gig at EKK. He was mentored by his father, the late Rev. Dennis Kamakahi, as well as the legendary Led Kaapana. Matt Sproat is related to David Sproat of Kilauea on Kauai's North Shore and also to the world-famous Kindy Sproat from Hawai'i Island. Kale Hannahs is the big brother of Lihau Hannahs, who has appeared on the EKK stage with her husband, Kellen Paik, as the duo Kupaoa.
All EKK gigs are held from 6 PM to 9 PM in the Jasmine Ballroom of the Aqua Kauai Beach Resort, located near Lihue Airport. A donation in the calabash treats you to an unforgettable evening of Aloha from the heart … AND … there's a No-Host bar and food concession in the ballroom. All EKK events are open to the public.
E Kanikapila Kakou 2019 is a program of the nonprofit Garden Island Arts Council — bringing ARTS to the people and people to the ARTS — and is supported by the Hawaii Tourism Authority.
Next Monday, January 28: Brother Noland