Shakuhachi Grandmaster Riley Lee to Perform Online
Saturday, September 23rd, 2023 at 4:00 pm

–

5:30 pm

Free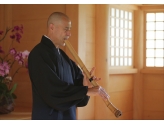 LAWAI – Riley Lee, a world-renowned shakuhachi master, will perform an online one-hour benefit pilgrimage concert for the Lawai International Center on Saturday, September 23rd at 4:00 p.m. Grandmaster Lee shares the magic and power of Lawai, a place that calms the spirit and stills the mind. Lee is the first non-Japanese to have achieved the rank of grandmaster of the 7th century ancient Japanese ceremonial flute.
To register online, visit www.lawaicenter.org or text or call (808) 639- 5952, info@lawaicenter.org
For more information about Grandmaster Riley Lee, visit www.rileylee.net. The zoom password link will be emailed to the participants two days prior to the concert.
The Lawai International Center, a non-profit community project, is an archaeological and cultural treasure in a valley that has long been recognized as a healing sanctuary. In 1904, the first generation of Japanese immigrants built 88 shrines replicating an ancient pilgrimage of 88 temples in Shikoku, Japan. Today, the Center is the only such site existing outside of Japan and is one of the oldest Buddhist temple sites in the country. Volunteers are bringing these shrines and this valley back to prominence as an international center for compassion, education, and cultural understanding. For more information about the Center, visit www.lawaicenter.org.
Related Events