Lucky 7: Stephen Inglis Project Plays the Dead
Saturday, May 6th, 2023 at 5:30 pm

–

10:30 pm

$29.50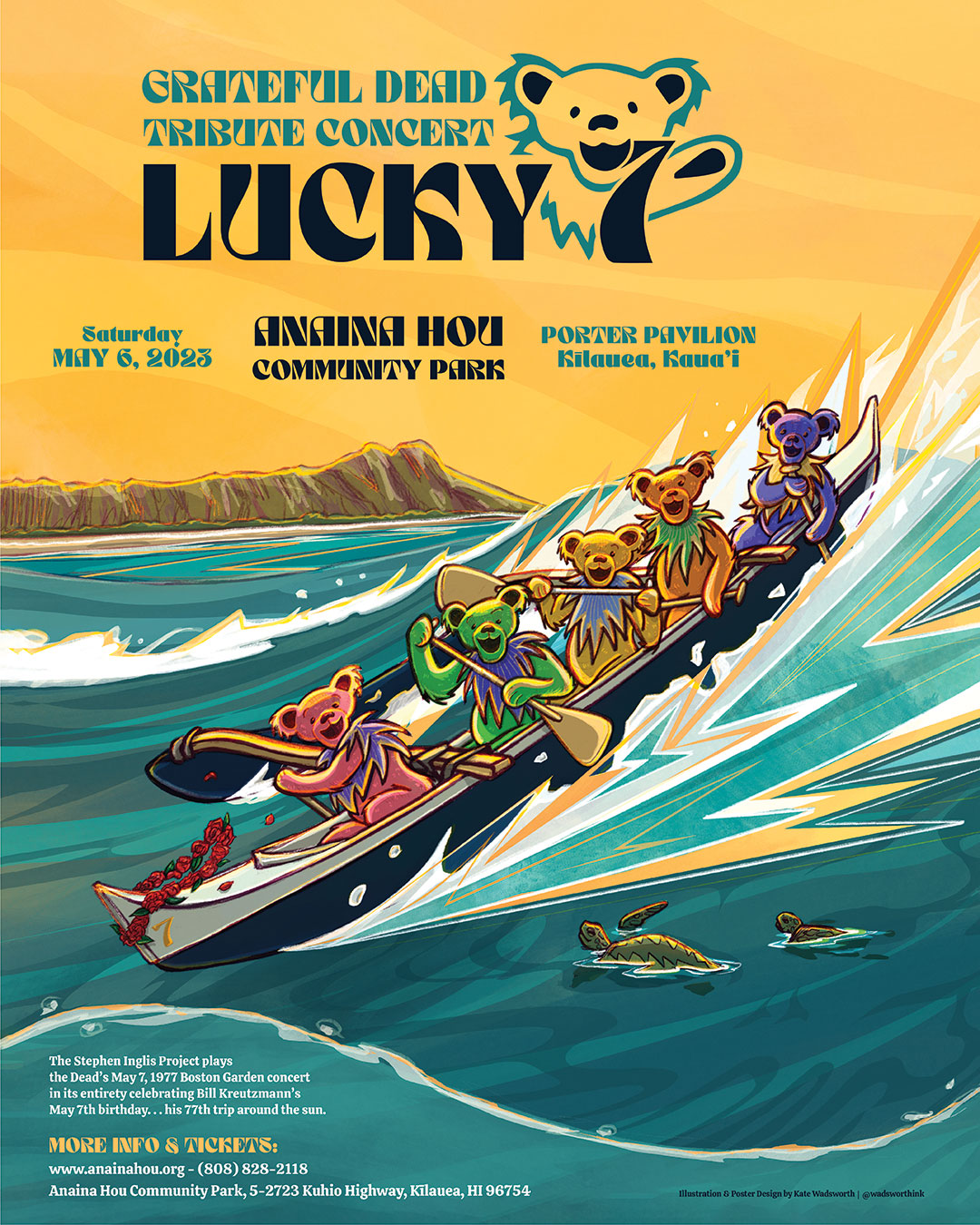 An Evening Immersed in Music, Nature, Community and Love
Featuring a Grateful Dead tribute concert, ono eats and drinks, beer, wine, cocktails, and a sea of aloha – all at a wonderful, open-air venue surrounded by nature's beauty.
The Stephen Inglis Project plays the Dead's May 7, 1977 Boston Garden concert in its entirety celebrating Bill Kreutzmann's May 7th Birthday… his 77th Birthday
In 1977, the Grateful Dead were on fire. They debuted "Fire On The Mountain" on March 18, 1977 and went on to play one stellar show after another – all drenched in groovy 70's vibes and recorded by the one and only Betty Cantor-Jackson (the famed "Betty Boards"). One such concert was Boston Garden, May 7, 1977 – Bill Kreutzmann's 31st birthday and the night before the Dead ignited Barton Hall at Cornell University.
While Barton Hall is widely hailed as the Dead's greatest concert ever, some prefer the night before at Boston Garden, and we won't argue with that. We are thrilled that the "7's" aligned and enabled us to gather at such a special place and celebrate Bill, the boys, Boston Garden '77 and the entire Grateful Dead ohana. How lucky we are!!!
The Way Back Machine
Get in the Groove with the Photos from & newspaper reviews of the Dead's epic May 7, 1977 concert. (all photos by Peter Simon)
SET LISTS
At Lucky 7, The Stephen Inglis Project will play every song, in order, from the Dead's May 7, 1977 concert.
MAY 7, 1977 – BOSTON GARDEN
SET I
"Bertha"
"Cassidy"
"Deal"
"Jack Straw"
"Peggy-O"
"New Minglewood Blues"
"Mississippi Half-Step"
"Big River"
"Tennessee Jed"
"Music Never Stopped"
SET II
"Terrapin Station"
"Samson and Delilah"
"Friend of the Devil"
"Estimated Prophet"
"Eyes of the World"
"drums"
"The Wheel"
"Wharf Rat"
"Around and Around"
ENCORE
"U.S. Blues"
ABOUT THE STEPHEN
INGLIS PROJECT
Hawaii guitar great, Stephen Inglis, brings his band ("The Stephen Inglis Project") to The Porter Pavilion ready to honor and celebrate the Grateful Dead and the robust history, beauty and opportunity encapsulated in May 7. The band features Inglis (lead guitar (electric), vocals), Eric Petersen (bass, vocals), Steven Howells (drums), Alan Okuye (keyboards), Ginai Hill (vocals, percussion), and Michael Shapiro (rhythm guitar).
Inglis is a world-class guitarist with deep insight into the Dead. When just 22 years old, Inglis served as lead guitarist in "House of Spirits" – a 1990's band headed up by Bill Kreutzmann (the Dead's founding and forever drummer). Inglis' 2018 album, "Cut The Dead Some Slack," is comprised entirely of songs from the Dead's cannon, mostly performed in slack key fashion. Dennis McNally, the publicist for the Dead from '84 thru '95, supported the release of Inglis' stellar album which garnered much attention nationally including frequent praise and spins from David Gans on his iconic radio show, "The Grateful Dead Hour."
Show Details
This is an all ages event. Patrons under 18 years of age must be accompanied by an adult. Children ages 5 and Under are Free.
No outside food or beverage permitted in the venue.
Beverage Concessions both Alcoholic and Non Alcoholic will be available throughout the show.
Bill's Kitchen and Full Concert Menu will be available throughout the show.
There will be a light bag search upon entrance.
Shirt and Shoes required for entrance.
No Re-Entry
Schedule of Events
5:30 PM Doors
6:30 PM Music Starts
Tickets available at anainahou.org
$29.50 in Advance | $35 at the Gate
Related Events