Kaua'i Songwriters Music Festival
Saturday, October 14th, 2023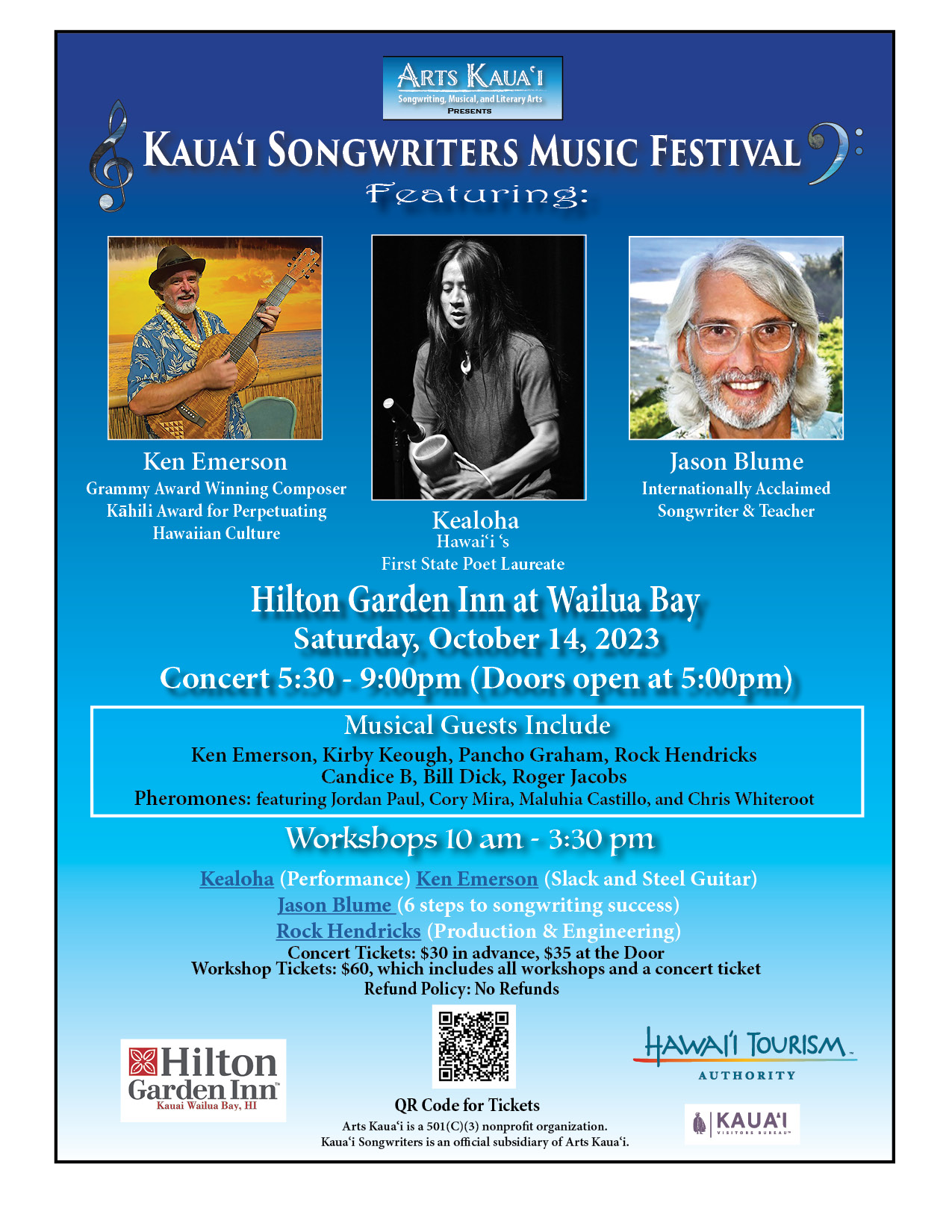 Arts Kaua'i presents the Kaua'i Songwriters Music Festival : Saturday, October 14, 2023, at the Hilton Garden Inn at Wailua Bay.  Supported by the Hawai'i Tourism Authority through the Community Enrichment Program
The Kaua'i Songwriters Music Festival is a celebration of the art of songwriting. This year's festival includes workshops for songwriters, followed by an evening concert. Tickets to the concert are $30 in advance. The workshops are $60 and include all workshops and a concert ticket.
Hawai'i State Poet Laureate Kealoha will serve as the emcee, performer, and presenter. Kealoha is Hawai'i's first State Poet Laureate. As an internationally acclaimed poet and storyteller, he has performed throughout the world — from the White House to the 'Iolani Palace, from Brazil to Switzerland. He is the first poet in Hawai'i's history to perform at a governor's inauguration, was selected as a master artist for a National Endowment for the Arts program and received a Community Inspiration Program grant from the Native Arts and Cultures Foundation. Kealoha has recently released The Story of Everything, a multi-media film.
Songwriter Ken Emerson and special guests will be featured. Ken Emerson is one of the world's most highly regarded traditional Hawaiian slack key & steel guitarists living today. Emerson won the prestigious Kāhili Award for perpetuating Hawaiian culture and was a featured artist and composer on the first-ever National Academy of Recording Arts & Sciences Grammy Award-winning Best Hawaiian Album. Emerson's playing was also featured on Donald Fagen's (Steely Dan) Grammy Award-winning Morph the Cat. Additional touring/recording credits include: Jackson Brown, Boz Scaggs, Charlie Musselwhite, Taj Mahal, Todd Rundgren, Ramblin" Jack Elliott, and Elvin Bishop.
Jason Blume is the author of 6 Steps to Songwriting Success, This Business of Songwriting, and Inside Songwriting (Billboard Books). His songs have been recorded by Britney Spears, the Backstreet Boys, the Oak Ridge Boys and many others, selling more than 50,000,000 copies. A guest lecturer at the Liverpool Institute for Performing Arts (co-founded by Sir Paul McCartney) and at the Berklee School of Music, he teaches the BMI Songwriter Workshops and has taught master classes in more than ten countries. He has published more than 125 articles in BMI's magazines, and has been interviewed as a songwriting expert for CNN, NPR, the BBC, Rolling Stone, and the New York Times.
Rock Hendricks is a world-renowned saxophonist, producer, and recording engineer. Throughout his career, Rock performed and recorded with many legendary performers such as Michael Jackson, John Lee Hooker, Lydia Pense & Cold Blood, The Funkadelics, Michael Buble, Marvin Gaye Jr., Marvin Gaye Jr. III, The Temptations, Bobby Womack, Coke Escovedo, Walter Becker and Don Fagan, Steve Arrington, The Family Stone, Bonnie Raitt, Leon Russel, Dave Mason, Sammy Hagar, Motown Records, Gabriel Hasselbach, Jeff Lorber, and Paul Hardcastle.  Rock wrote and produced music for the Electronic Arts game "The Sims" with over 150 million games sold. Since 2009, Rock has recorded over 30 songs with Paul Hardcastle and has had nine Billboard #1 smooth jazz hits.
Additional Musicians include:
The Pheromones, Candice B, Pancho Graham, Kirby Keough, Roger Jacobs, Bill Dick
Related Events