HCT Presents "Heathers the Musical – Teen Edition"
Thursday, August 3rd, 2023 at 8:00 am

–

9:00 pm

$25 – $30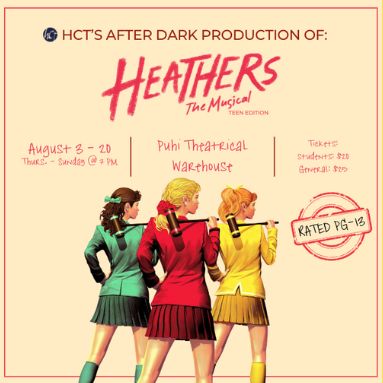 Hawaii Children's Theatre presents "Heathers: The Musical – Teen Edition," directed by Jennifer Takenaka and featuring musical direction by Nina Saraos. This production will be performed at the Puhi Theatrical Warehouse from August 3 – 20.
"Heathers: The Musical – Teen Edition" is a dark comedy that follows the story of Veronica Sawyer, a high school student who becomes involved with the most popular and ruthless clique in school, the Heathers. The show deals with themes of teenage angst, popularity, and the consequences of our actions. This version of the show has been adapted to be more suitable for a younger audience, with the removal of some of the more mature themes and language.
Tickets for "Heathers: The Musical – Teen Edition" rated PG-13, are available for purchase through the Hawaii Children's Theatre website. General admission tickets are priced at $30 for adults and $25 for students under 18. The show will run from August 3 to 20 with performances on Thursdays, Fridays, Saturdays, and Sundays at 7:00 PM. Don't miss this unique and unforgettable production!
Related Events