ALOHA Kauai Yoga Festival & Worldwide Peace Mediation Summit 6th Annual, October 7, 2023
Saturday, October 7th, 2023 at 7:30 am

–

7:30 pm

$35 – $55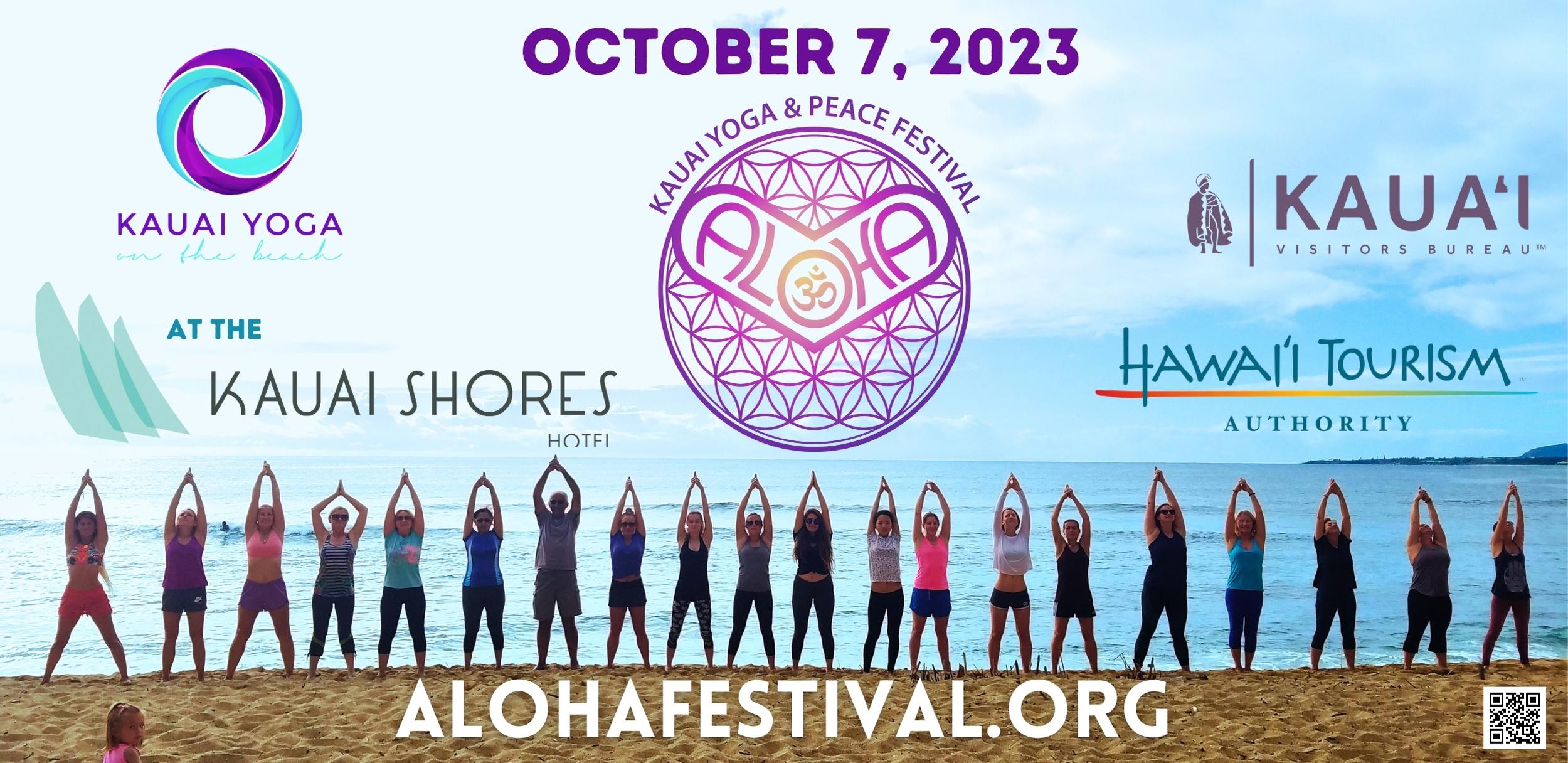 ALOHA Kauai Yoga Festival & Worldwide Peace Mediation Summit 6th Annual, October 7, 2023
At Aloha Kauai Yoga Festival & Worldwide Peace Meditation Summit, our mission is to create a transformative and profound experience that brings together individuals and communities from Kauai and around the world to cultivate inner peace, wellness, and global harmony.  To create a lasting impact on individuals and communities worldwide, by promoting personal transformation, justice, and global connection. Through the practice of yoga and meditation, we aim to inspire and empower individuals to connect with their true selves, cultivate compassion and empathy for others, and promote positive change in the world.
Our festival celebrates the beauty and diversity of yoga and meditation practices. We seek to create a welcoming and inclusive space where everyone can explore and deepen their practice, regardless of their age, shape, or level of experience.
We recognize the urgent need for global peace and harmony in the face of social, political, and environmental challenges. Therefore, we aim to harness the collective power of our festival to promote worldwide peace and healing, through group meditations and other collaborative efforts.
WE ARE GATHERING KAUAI AND GLOBAL COMMUNITIES TO CONNECT, PRACTICE YOGA, HEAL, DANCE, AND COLLECTIVELY MEDITATE on PEACE, LOVE & LIGHT!
Join us on OCTOBER 7, 2023 at a gorgeous oceanfront location at Kauai Shores Hotel!
It will be one full day filled with Yoga classes, Meditation, Sound Healing, Vendors, Acoustic Music, Healing Arts, Community Gatherings, and Meaningful Connections.
The island of Kauai has an amplified Divine Energy of Aloha! Let's gather to multiply it!
 Supported by the Hawai'i Tourism Authority through the Community Enrichment Program
Related Events