7th Annual Keiki Uke's in Paradise Competition
July 29th, 2018 at 11:00 am
–
2:30 pm
|
Free
Event Navigation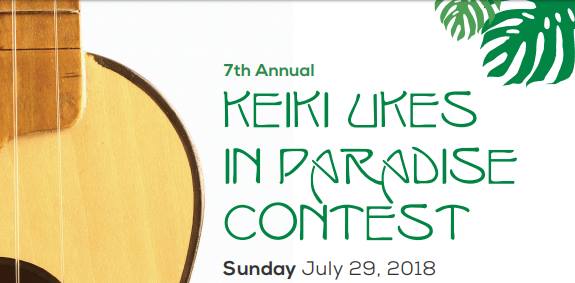 'Ukes in Paradise Keiki 'Ukulele Competition
Keoki's Paradise
Sunday, July 29; 10:30am registration, 11:00am start
Keiki, families and friends are invited to "strum on down" to Keoki's Paradise on Sunday, July 29 for a Keiki 'Ukulele competition starting at 11am (registration is at 10:30am). No cost to enter; open to all keiki ukulele players 5 and older.
Contact: 742-7534
Keiki will be separated into divisions based on their grade most recently competed. Each division will have a maximum of 5 contestants, which will be filled on a first come, first serve basis. There will be an alternate for each division who will be notified no less than one week prior to the event if their participation is needed. If selected as a contestant and you are unable to participate, please inform Keoki's Paradise by July 21st.
Aloha Attire is recommended. All contestants will be judged on brief introduction (name, grade completed
and school at tending), ukulele performances (strumming, rhythm and picking), and stage presence, off stage
attitude, originality and keeping within the 6 minute time limit. No electrical effect pedals/distortion boxes will be
allowed.