The THREADS of KAUAIʻS HISTORY
October 28th, 2017 at 5:30 pm
–
9:00 pm
|
$10 – $600
Event Navigation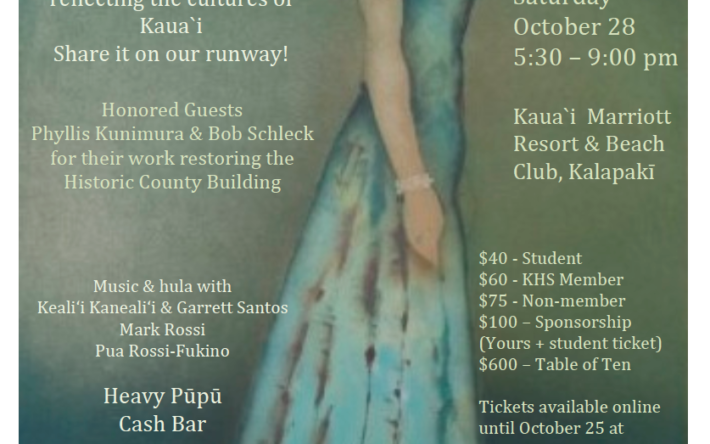 The THREADS of KAUAIʻS HISTORY
A Kauai Historical Society Fundraiser Gala
Our 2017 Gala recognizes the Cultures and Clothing that those many cultures have woven into Kauaiʻs History. Dress in one of those colorful attires – Chinese, Japanese, Hawaiian, Filipino, Paniolo, Missionary, Surfer, and so many more!
Proudly wear the clothing that reflects the multi-cultures of Kauai. Weʻll have a promenade for all to see your creativity and your history.
Phyllis Kunimura and Bob Schleck will be honored for their work in resorting the Historic County Building, Kauai Historical Societyʻs home. This 22-year project will be highlighted in a brief legacy video :  Tenacity for Preservation
Music & Hula with
KealiʻI KanealiʻI & Garrett Santos
Mark Rossi
Pua Rossi-Fukino MC
Heavy Pupu and Cash Bar
Plus – Fabulous Door Prizes!!
Saturday, October 28, 2017
5:30pm – 9:00pm
Kauai Marriott Resort and Beach Club
Kalapaki
$40 Student
$60 KHS Member
$75 Non Member
$100 Sponsorship (Yours + a Student ticket)
$600 for a Table of 10 guests
Tickets available online until Oct 25
www.kauaihistoricalsociety.org
808-245-3373
CONTACT: Delia at info@kauaihistoricalsociety.org