The Traveling Plate Kaua'i
August 12th, 2018 at 11:00 am
–
2:00 pm
|
$25
Event Navigation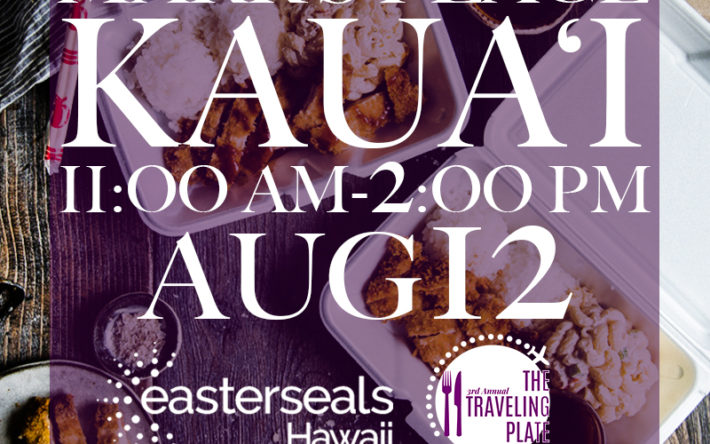 Easterseals is again taking their show on the road with the 3rd Annual Statewide Culinary Tour to benefit Easterseals Hawaii. Last year Traveling Plate was wildly successful visiting Maui, Kauaʻi, Hawaiʻi, and Oʻahu. This year the voyage continues with the launch of new and innovative concepts as part of this statewide culinary tour.
Kauaʻi boasts the 3rd launch event in this unique statewide culinary tour at Mark's Place in Lihue, Kauaʻi. Traveling Plate Kauai will be a pop-up style brunch featuring a collaboration by Chef Mark Oyama of Mark's Place, named Kauaʻiʻs Best Food Establishment and visiting Chef Mark "Gooch" Noguchi of Pili Group (Honolulu). The pair will craft ʻāina sourced brunch eats and donate all funds from the event to Easterseals Hawaii. In addition to the gourmet plate lunch guests will enjoy complimentary beverages including Shaka Tea and a signature island juice. This laid back dining experience on the lawn is a perfect opportunity to bring your family for a mālie morning with these local favorite chefs while supporting Easterseals Hawaii.
For the entire month of August restaurants across Hawaiʻi will also serve as Restaurant Ambassadors, to celebrate locally sourced food and increase awareness of Easterseals Hawaii. In addition to the celebrity chef studded events on each island, over seventy five Restaurant Ambassadors will offer a special menu item at their establishment and donate a portion of proceeds directly back to Easterseals Hawaii. Participating Kauai Restaurant Ambassadors include Hukilau Lanai, Monkeypod Jam, RumFire, Eating House 1849, Japanese Grandmas, Kauai Beer Company, MCS Grill, Nani Moon Meadery and more. For a full list of Restaurant Ambassadors + menu items for Kauaʻi and other participating islands visit TravelingPlateHI.com
Easterseals is proud to partner with the culinary world to celebrate their legacy of over 70 years of making a profound positive difference in people's lives everyday. Easterseals Hawaii is committed to improving the lives of individuals challenged by autism, developmental disabilities and special needs. Easterseals invites the community to support their efforts by attending the Kauaʻi brunch event or by dining with a Restaurant Ambassador near you.
For more information and full list of tour locations visit TravelingPlateHI.com. For sponsorship opportunities please contact Bill Markevitch at BMarkevitch@eastersealshawaii.org.
Event Details:
Who: Easterseals Hawai'i
What: The Traveling Plate Kauai "Brunch Plate Lunch" by Chef Mark Oyama & Chef Mark "Gooch" Noguchi
When: Sunday, August 12, 2018
Time: 11:00 AM – 2:00 PM
Where: Mark's Place (1610 Haleukana Street)
Ticket Prices: $25 per plate
Tickets on sale at www.travelingplatehi.com