Terno Ball by the Kauai Filipino Women's Club
September 21st, 2019 at 5:00 pm
–
9:00 pm
|
$85
Event Navigation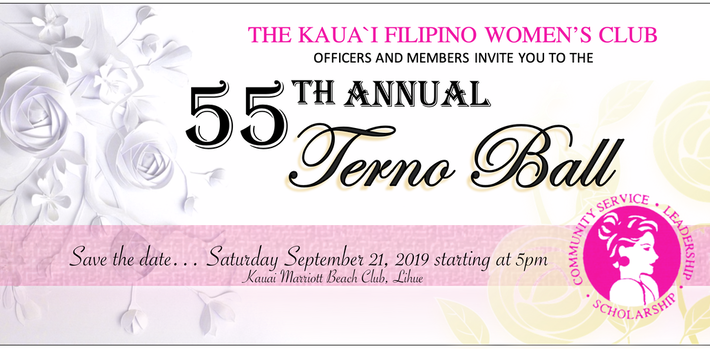 An annual signature event hosted by the Kauai Filipino Women's Club to help us raise scholarship funds.
Saturday September 21, 2019 5:00PM start
Kauai Marriott Resort & Beach Club
3610 Rice Street, Kalapaki Beach, Lihue, HI 96766
Special entertainment by A Touch of Gold
http://www.atouchofgoldhawaii.com/
Visit our website for more ticket and sponsorship information http://www.kauaifilipinowomensclub.org
Community Service
We promote and foster the Filipino culture and values through dress and costumes, music and dance, social and recreational activities, and through other customs like civic engagement, volunteerism, and charity. We aim to leave a legacy and a positive imprint of our unique cultural identity in our home and in our community by presenting activities which include the youth, confined ill, disabled, and elderly.
Leadership
We are a dynamic vehicle for self-improvement and personal growth as homemaker, career woman, service woman, and citizen at home and in our community. Some of our members are graduates of Leadership Kauai, a 501 (c)(3) non-profit dedicated to cultivating strong and committed leaders on Kaua`i. Others are executives and leaders in their own respective industries, including but not limited to fashion and design, film and television, health care, government, hospitality, education, restaurant, photography, print and design, accounting and finance, insurance, entrepreneurship, and more.
Scholarship
We install and encourage education in the Filipino youth by organizing scholarship fundraisers like our signature event the KFWC Terno Ball. In the 55 years of the club's existence, we awarded more than $250,000 in scholarship funds to deserving female scholars who were of Filipino ancestry. Some of our graduates have earned higher level degrees and gone on to becoming leaders in their respective organization, community, and in their home. Others returned to Kauai to serve on the board of the Kauai Filipino Women's Club, are current club members, and/or partake in our events.