Soto Zen Bon Festival
Wednesday, June 15th, 2022 at 12:00 pm
–
Sunday, June 19th, 2022 at 5:00 pm
|
Free
Event Navigation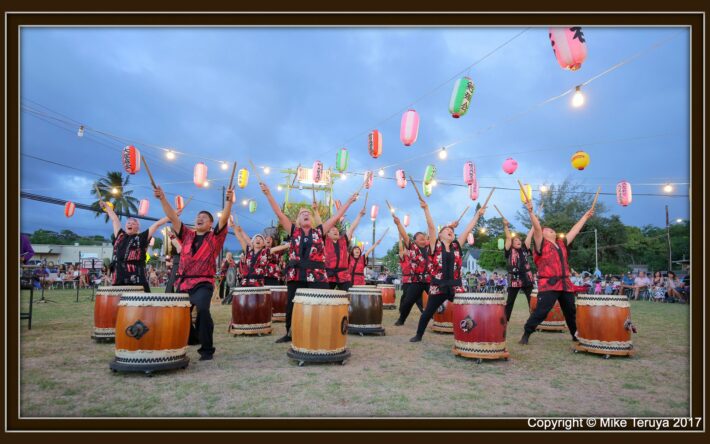 The Soto Zen Bon Festival showcases the best of the Bon Dance culture in Hawaii. The folk art and religious traditions have evolved on Kauai for over five generations in the Japanese American community. Over 500 lanterns (chochin) decorate the temple grounds and the dance ring, making this festival the most colorful and largest on the island. The Bon festival serves to educate not only visitors but other island residents about this unique cultural tradition, including descendants of Japanese ancestry who can deepen their own understanding of their heritage.
The center stage is the bon odori, the Japanese folk dancing with lively music, while the taiko provides the beat and energy of this event. The dancers dance in concentric circles around a raised platform (yagura), dressed in colorful kimonos, yukatas, and happi coats, under a canopy of lanterns. However, the nature of the festival gathering, the close contact of dancers in the ring lead to crowded spaces. Instead of a two-day evening celebration, the events will take place during the day from 12 noon to 5:00 pm and span 5 days, from Wednesday, June 15 through Sunday, June 19.  Saturday and Sunday events run until dusk.  More information on website:  kauaisotozen.org
A variety of cultural and historical exhibits tout the temple's immigrant and sugar plantation heritage. Guests are encouraged to participate in the various activities to learn the significance of the festival, which remembers departed loved ones. It is a happy time of music, song, and dance. Cultural performances will be held on Saturday and Sunday. Food will be served. The most popular festival food fare, the Flying Saucer, originated at this temple over 70 years ago!
The Soto Zen Bon Festival brands itself with a festival logo and a theme, "Let's Bon Dance!" It is a festival for all ages. It is a gathering of joy when ancestral spirits return and are united with the living. It is a time to return to your hometown, reunite with family and remember the loved ones who have come before you.
This event is supported by the Hawaii Tourism Authority through the Community Enrichment Program.