Raqs Tiki Kaua'i Belly Dance Intensive -Dance and Music Workshops
September 30th, 2022 at 9:00 am

–

October 2nd, 2022 at 2:30 pm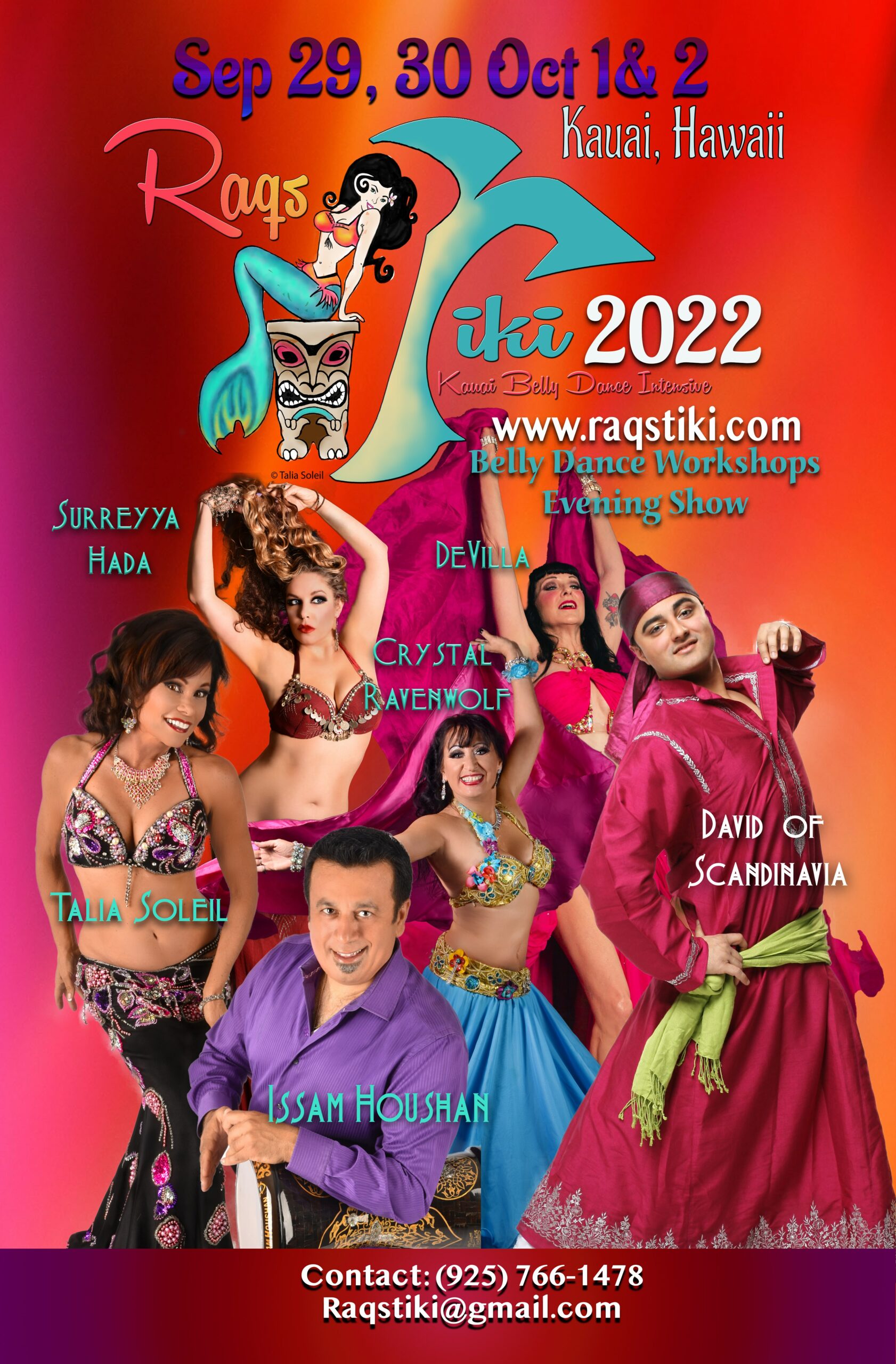 Ten different Belly Dance and Music Workshops will take place starting Friday, September 30, 2022 in Princeville, and going through the weekend.
All levels of dance are invited to participate in this annual event held at the Church of the Pacific.
Our instructors are David of Scandinavia, Issam Houshan (King of the Drums), DeVilla Raks, Surreyya Hada, Crystal Ravenwolf, Nelleke Pielaat, and Talia Soleil.
All of our instructors are award winning professionals with experience in both performing and teaching. They are excited to bring their knowledge to you to continue your dance journey.
Our workshops are
Friday, Sept 30:
Workshop 1:   9:00am – 10:30am: "Modern Orientale Choreography" with DaVid of Scandinav
Workshop 2:   10:45am – 12:00pm: "Rhythm Of The Night" with Talia Soleil and Issam Houshan (Dancing to different Middle Eastern Rhythms)
Workshop 3:   12:30pm – 1:45pm: "Taking Tabla Skills to the Next Level" with Issam Houshan (Learn how to play the Tabla, all levels welcome, beginning through professional. If you don't have a drum, finger cymbals are welcome. You can even clap out your rhythms.)
​Workshop 4:  2:00pm – 3:30pm: "Dramatic Movement" with DaVid of Scandinavia
​Saturday, October 1, 2022
Workshop 5:   9:00am – 10:30am: "As The World Turns" with Talia Soleil (de-mystifying turns and spins in Middle Eastern & Fusion Dance)
​Workshop 6:  10:45am – 12:15pm:  "D'ranged Combinations" with DaVid of Scandinavia (fun dance combos)
Workshop 7:  1:00pm – 2:30pm: "How To Dance To A Live Drummer" with Issam Houshan
Sunday, October 2, 2022
Workshop 8:  9:00am – 10:30am: "Entering with Style: Understanding the Raqs Sharki Mejance" with Crystal Ravenwol
Workshop 9:  10:45am – 12:15pm: "You Can Be A Zill-ionaire" with Surreyya (playing zills with confidence)
Workshop 10:  12:45pm – 2:15pm: "What's Your A-VEIL-ABILITY?" with DeVilla (dancing beautifully with your veil)
All 10 Workshops: Kama'aina rate $375 /  Non-Hawaii residents $405 / Individual workshops $45.00
Related Events