Preserving Hawaii Workshop: French Crepes May 5th
May 5th, 2019 at 4:00 pm
–
6:00 pm
|
$85.00
Event Navigation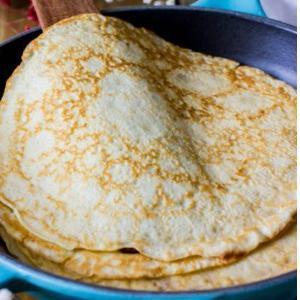 In this 2-hour workshop, Chef Beatrice will guide students through the techniques needed to master one of France's favorite street foods the savory and the sweet crepes. Both can be filled with endless options, many of which will be shared in class.
Beatrice Ricart grew up in France and felt a calling to the kitchen at a very young age. As a teenager, she prepared gourmet meals for her family from innovative recipes she uncovered in magazines and books. While in high school, Beatrice worked at a friend's bakery in her home village. She has been baking and cooking ever since. In 2013, Beatrice graduated from San Francisco City College with an Associate's Degree in Culinary Arts. Since then, she has taught cooking classes at Draeger's and Sur La Table in the Bay Area. Having relocated to Kauai in 2016, Beatrice has worked with several local businesses and is now an independent contractor and baker for commercial clients.
Date/Time: Sunday, May 5th, 2019, 4-6pm
Location: The Monkeypod Jam Shop, 2-3687 Kaumualii HWY, Next to the Lawai Post Office
Workshop Includes Hands-on, personal instruction, all needed supplies, sweet and savory crepe recipes. We will have the opportunity to enjoy the fruits of our labor at the end of class.
At Monkeypod Jam, we preserve not only the abundance of fruits and vegetables but also the community and heritage of our island. Preserving Hawaii Workshops are offered to our local community and island visitors looking to experience the various methods used to preserve the bounty of Kauai's agriculture. These workshops are more intimate than many of our other offerings. The small class size enables each student to focus on the produce and techniques shared.
Learn More/Register: Monkeypodjam.com or 808.378.4208
 **Workshops are non-refundable. If you find you are unable to attend a workshop you have paid for, please find someone to take your place.
***Please email us at info@monkeypodjam.com if you are interested in learning about future workshops. We will add you to our mailing list.***