Preserving Hawaii Workshop: Canning 101 April 11th
April 11th, 2019 at 5:30 pm
–
7:30 pm
|
$80.00
Event Navigation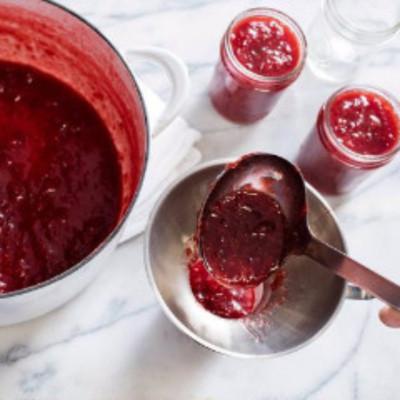 In this 2-hour introductory class, Aletha will guide you through the home preserving process from start to finish, with a special focus on high-acid canning. We will examine key topics such as the role of sugar, the importance of acid (ph) and how to properly sanitize throughout the canning process. This class begins with pupus and a preserving discussion, then proceeds to the cooking process.
Each attendee will be a part of creating a batch of Strawberry Jam. They will also have the opportunity to take home two completed jars.
Date/Time: Thursday, April 11th, 2019, 5:30 – 7:30pm
Location: The Monkeypod Jam Shop, 2-3687 Kamualii HWY, Next to the Lawai Post Office
Workshop Includes: Hands-on, personal instruction, all needed supplies, pupus,  and refreshments, two jars of class-made preserves to take home.
Please Bring: Cutting Board and Knife
Dress Code: Long Pants and Toe Covered Shoes
Aletha Thomas, a former schoolteacher, launched Monkeypod Jam in 2010 when she was placed on furlough. Each furlough Friday, Aletha would pull out her French copper pot and make jams and jellies using ripe Kauai fruit. With each batch, she was preserving the season's harvest while also preserving childhood memories of her grandmas, both of whom she remembers preserving the season's local bounty.
In February of 2014, Aletha enrolled in Hawaii's Master Preserving Program. Now certified as a Master Preserver and with over twelve years of teaching experience, Aletha is eager to share the ins and outs of home preservation with others who share her interest and passion of preserving the seasons.
Learn More/Register: Monkeypodjam.com or 808.378.4208
 **Workshops are non-refundable. If you find you are unable to attend a workshop you have paid for, please find someone to take your place.
***Please email us at info@monkeypodjam.com if you are interested in learning about future workshops. We will add you to our mailing list.***