Participate in a creative project on Kauai
October 18th, 2018
–
December 30th, 2018
|
Free
Event Navigation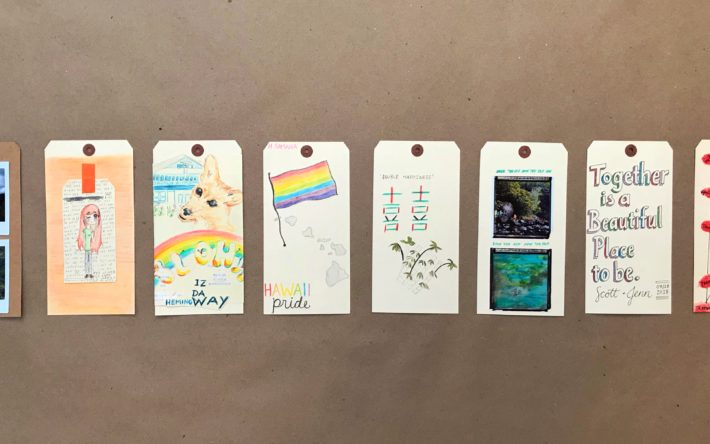 Quo Imus (Where are we going) invites each one of us to join the playground of ideas.
Do you ask yourself what our future will look like in 20 years as well?
This exciting theme was taken on by an art project, which is located in Art Cafe Hemingway in Kapaa, and will travel around the world. All of us can co-create it until the end of the year on Kauai.
The world is changing rapidly due to digitization. Our job market is reforming itself. Today's fields of employment will not be existent in the foreseeable future. Our society will have to find completely new ways of cohabitation.
The project will document and compare the various wishes and ideas of diverse cultures in different nations across the globe. What do we think, how our society is evolving, or should evolve.
The question that is being asked here is not how we will live, but rather how we want to live.
In January the exhibition will, due to invitations from multiple galleries, travel to Europe, where it will grow and compare our visions of the future.
A good society needs democratic participation. The goal of the project is to motivate all of us to participate in the creation of our society, and to become aware that we are indeed the creators of said society.
Art and creativity remain, even in the time of hyper individualism, a path towards communication across all boundaries.
The similarities of our wishes are already imminent in the daily growing exhibition that will surely bring us more together than tear us further apart.
You can participate until the end of the year in Art Cafe Hemingway in Kapaa every day from 8 a.m. until 1:30 p.m.
The exhibition's concept includes the use of specific cards, which are made available to the participants for free.
You can also come pick these up and create at home. Any form of visual representation is allowed: texts, collages, stamps, drawings, photography, etc. You can now look at the first cards on the Instagram page: QuoImus or on the website www.quoimus.com