Never Forget Sandy G. Golf Tournament
Sunday, August 7th, 2022 at 7:00 am
–
2:00 pm
|
$110.00
Event Navigation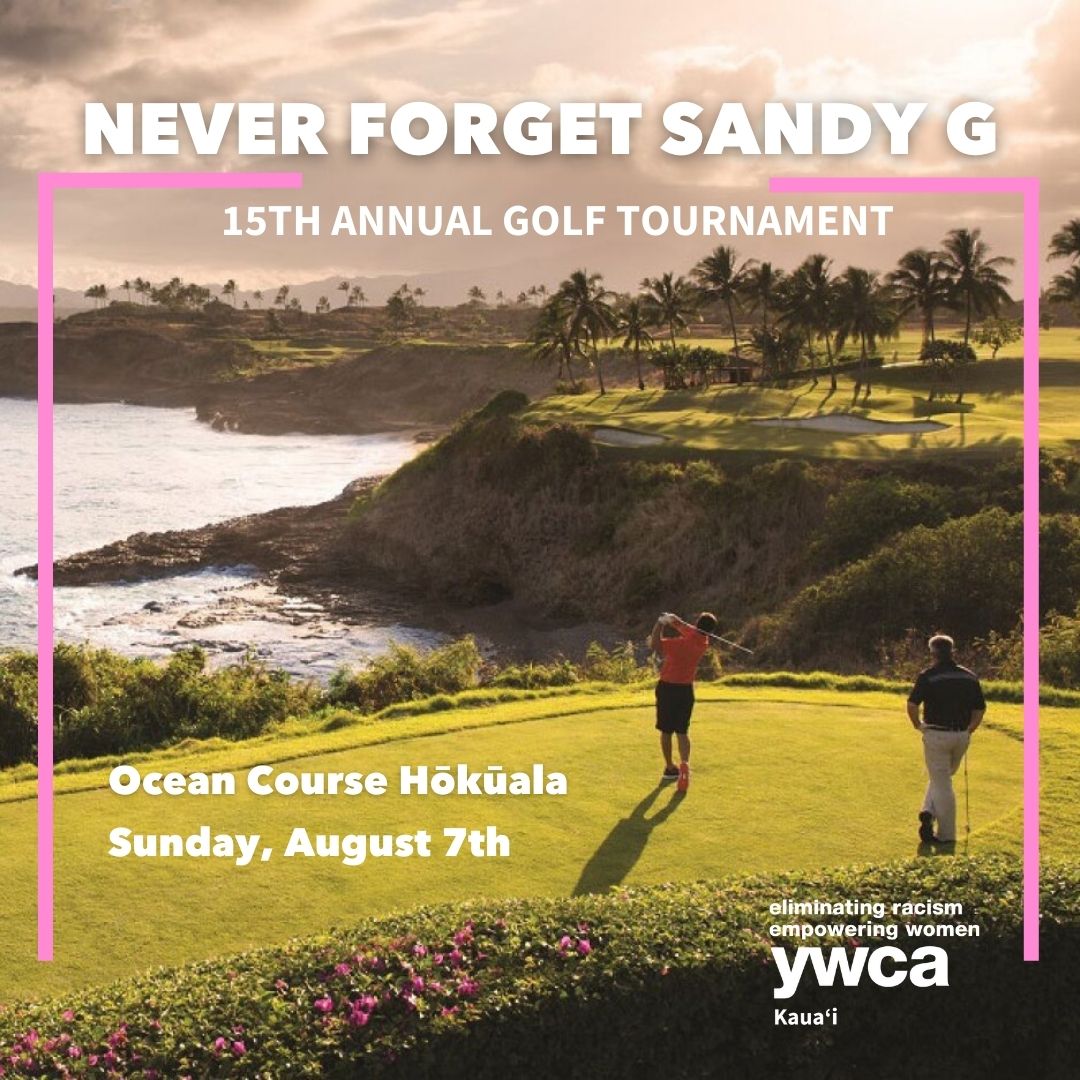 The 15th Annual Never Forget Sandy G Golf Tournament will be held on Sunday, August 7, 2022 at the Ocean Course Hōkūala. Mahalo to all of our past sponsors, golfers, prize donors, volunteers, and the staff at Ocean Course Hōkūala!
YWCA Kaua'i is ever persistent in its mission to empower our local 'ohana and bring an end to domestic violence. We haven't forgotten Sandy G. and how her family has suffered because of domestic violence. Important case update! In April, the Hawaii Paroling Authority reduced Darren Galas' mandatory minimum time served by six months despite the family and community efforts to rebuke his request. A reduction in sentence sends the wrong message to abusers! May 15th was Sandy's birthday – she would have turned 44 this year. By supporting this event, you will help keep Sandy's memory alive, support her family, and keep up the fight for justice.
7:00 am – Registration
8:00 am – Shotgun Start
Price per Golfer: $110
All proceeds benefit YWCA Kaua'i programs
There will be prizes, a continental breakfast and a grab-and-go lunch. More information will be emailed following registration, including what to bring, where to go, and any COVID-19 event modifications.
Participation space is limited; if you'd like to join us, be sure to register soon. We are looking forward to a fun golfing experience for all!
If you would like more information about this tournament, please contact Loretta at 245-5959 x224 / info@ywcakauai.org
You can now make a difference with our easy text-to-give option. Text SandyG to 808-353-5692 to make a mobile donation or click here .