Mixed Plate – Live Music
July 22nd, 2018 at 5:00 pm
–
7:30 pm
Event Navigation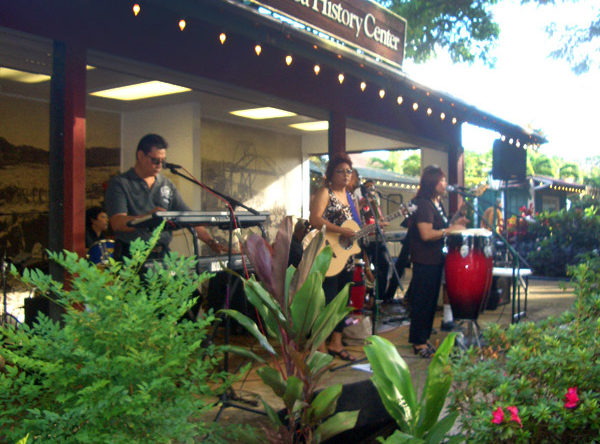 Free Live Music in Old Koloa Town's Courtyard
Kama'aina and visitors are invited to bring the whole family to enjoy free live music on July 22 as Koloa Plantation Days and the Old Koloa Town merchants present the fifth annual Mixed Plate – Live Music Show. This is a chance for music lovers of all ages to enjoy some of Kauai's best music in a relaxed, outdoor setting.
This year's show will feature the music of Kauai-born singer/songwriter Violet Asuncion, and the eclectic musical talents of Falling Down Romance, from 5pm – 7:30pm.
Violet is an ukulele artist and songwriter who has been playing Old Koloa Town's Mixed Plate – Live Music show since the center began hosting this popular annual event. Since those small kid days, Violet and her music have matured phenomenally. Violet is currently working on an album and has singles available for purchase on iTunes, Amazon and at other online music outlets. Mixed Plate will be her final performance before departing for NYU this fall, and will feature her new band.
Falling Down Romance is a is a musical collaboration between Dan Cruces & Diane Rubio. This ukulele virtuoso and composers create a captivating performance illustrating this year's theme Many Cultures, One Community with a rich world sound featuring everything from ukulele, to cello and erhu and fascinating audiences with their diversity of music talent and delightful rhythms. Falling Down Romance currently plays weekly at Garden Island Grille Thursdays through Saturdays 6pm – 8pm, and has become a favorite among residents and visitors alike.
The courtyard is a lovely outdoor venue, surrounded by plantation-era buildings and shaded by a massive monkey-pod tree. The performers are framed by the lanai of the Koloa History Center – don't miss this exploration into Koloa's past during the week. As evening falls, the twinkling lights of the courtyard enhance the magic of the musical experience.
Folding chairs will be available for seating, but people are encouraged to bring their own chairs and make themselves comfortable. For those who also bring their appetite, Pizzetta, Garden Island Grille, Aloha Roastery, Koloa Shave Ice, Kauai Nut Roasters, and Koloa Mill Coffee and Ice Cream are located in the center and will be open during the performance. Don't miss Crystal Harmonics and Crazy Shirts, also located in the Courtyard.
For more information, email Melissa.mcferrinwarrack@cbre.com or call Melissa at 652-3217.