Make A Difference Day: 25th Anniversary Of Building Kamalani Playground
October 26th, 2019 at 7:30 am
–
12:00 pm
Event Navigation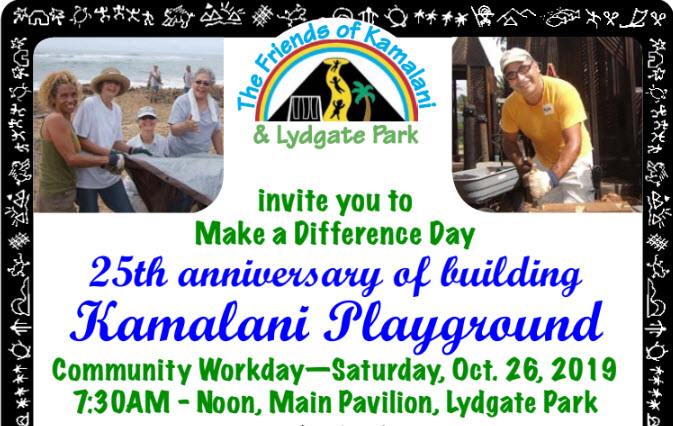 Volunteers needed to help with Kamalani Playground and Play Bridge maintenance, as well as beach cleanup and other park improvement projects celebrating October's National Make a Difference Day. Also celebrating 25th Anniversary of the building of Kamalani Playground.
Saturday, October 26, 2019 7:30am to noon
This Make a Difference Day Event will have volunteers working to clean up beaches fronting the 50-acre Lydgate Park, making improvements to the Kamalani Playground, touch up to the Kamalani Play bridge, as well as other projects. The event, now in its 15th year, is coordinated by the Friends of Kamalani & Lydgate Park, a community organization founded in 1993, to help preserve and improve the park's playgrounds, campgrounds, and ocean-side recreational areas and facilities.
The work day runs 7:30 am to 12 Noon, Saturday, October 26. Volunteers are asked to arrive at the park's Main Pavilion at 7:30 am to sign in and enjoy coffee and pastry. You can learn more about volunteering and registering for the event by visiting http://www.kamalani.us/contact, Facebook Page/FriendsOfKamalani or call/text (808) 639-1018.
Volunteers are encouraged to bring a water bottle, work gloves, sun screen and wear appropriate shoes. Lunch and snacks will be provided.
This popular volunteer day at the park attracts a broad spectrum of the Kauai community from a variety of youth groups to civic organizations and churches around the island. Volunteers have made significant improvements throughout the park since these community work days began, including beach cleanup, tree planting and survey, heiau cleanup and playground improvements. The event is always timed as an opportunity for the Kauai community to participate in community service in the spirit of October's National Make a Difference Day.