KAUMUALIʻI & KAUAʻI NUI KUAPAPA-Talking about the Kingʻs Vision for our Island
September 19th, 2019 at 5:00 pm
–
7:00 pm
|
FREE
Event Navigation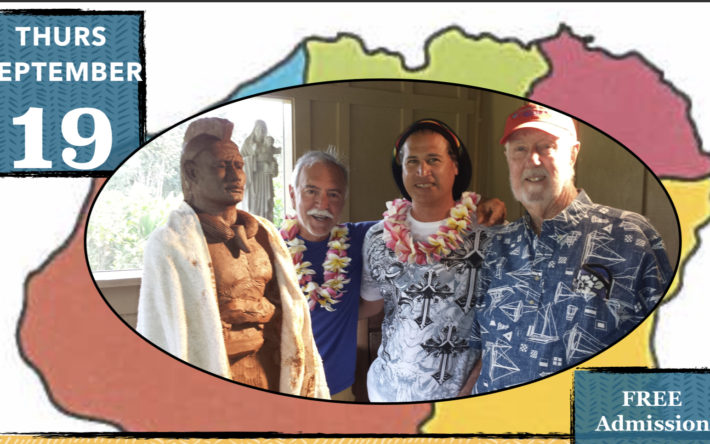 Dry Keao NeSmith co-developed Phase 1 of Kauaʻi Nui Kuapapa for and with Kauaʻi County as a resource on moku, ahupuaʻa, place names, and moʻolelo from Kaumualiʻi's time. He will share interesting and little known stories and facts about the vision Kaumualiʻi had for Kauaʻi from Hawaiian, out of print, and oral tradition sources passed down.
He was the model for the Friends' 8ft bronze statue of King Kaumualiʻi, by artist Saim Caglayan to be installed on the west side of Kauai. He was born and raised in Kekaha and is a Native Hawaiian linguist, educator, translator and cultural practitioner. He taught at various universities, including UH-Hilo and Manoa, lʻUniversiteʻ de la Polynesie Francisco, Tahiti; and University of Waikato, Hamilton, New Zealand where he received his PhD.
Presently, on faculty at UH-Manoa, he has translated a number of books into Hawaiian, including The Hobbit, The Little Prince and Alice's Adventures in Wonderland, and his most recent release,: Harry Potter a Me Ka Pōhaku Akeakamai; an ʻōlelo Hawaiʻi translation of J.K. Rowling's Harry Potter and the Philosopher's Stone, and is currently working on a Hawaiian translation of The Chronicles of Narnia.