Kauai Veterans Parade and Fair
Saturday, November 5th, 2022 at 9:00 am
–
2:00 pm
|
Free
Event Navigation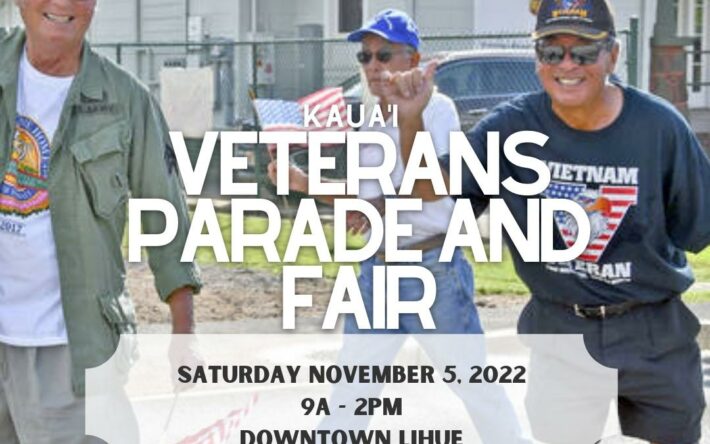 The event will be held on Saturday, November 5, 2022, from 9 am to 2 pm in downtown Līhuʻe. The parade will start on Hoʻolako street at Vidinha Stadium, proceed North on Rice street, head through downtown Līhuʻe, and end at Umi Street. The fair will be held on Rice Street, between Umi Street and Kalena Street featuring vendors. A short program to honor Veterans and live entertainment will take place. This year's theme will be ʻHonoring All Who Served'. The parade and fair will be jointly hosted by the RSBA and the Kaua'i Veterans Council.
The parade will feature marching units from all military service branches on Kauaʻi, community organizations, PMRF, three of Kauaʻi's largest schools marching bands, JROTC units, and the Pacific Fleet band. 
Following the parade there will be a fair featuring Veteran vendors and local products. We will also have local entertainment featuring local Hula Hālau, singers and local talent. A short program to honor Veterans and a scholarship presentation will be made to the winner of the 'Miss Kaua'i Veteran Award'. 
The major elements of the parade is to honor those who are Veterans and those who gave of their lives for the freedom we now enjoy in this country, the United States of America.
Support provided by Hawai'i Tourism Authority through the Community Enrichment Program.