Kaua'i Old Time Gathering
November 16th, 2018
–
November 18th, 2018
|
$50
Event Navigation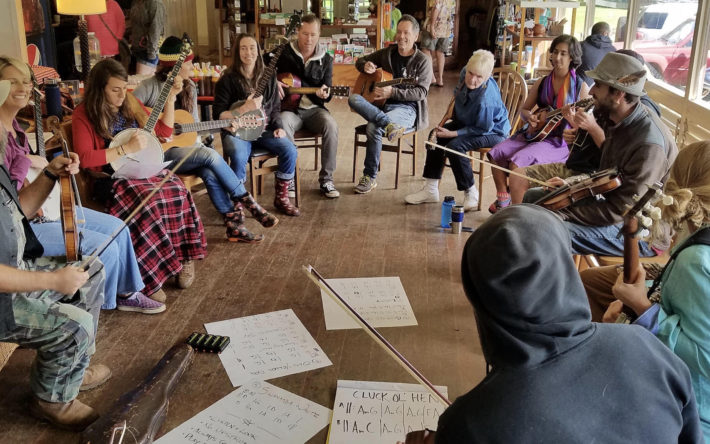 The Kaua'i Old Time Gathering, sponsored by Hale Puna and Koke'e Lodge, is a celebration of the traditional musics of North America and the Hawaiian Islands and an opportunity for fans and musicians to learn a variety of styles and instruments in workshops, classes, and jams.
2 outdoor stages (Camp Sloggett and CCC Camp)
1 indoor location (the historic Koke'e Lodge) – all performances in Lodge are free to public!
5 bands from US mainland, 7 bands from Hawai'i
Puerto Rican, Mexican, Cajun and local-style food from chef Kulia Fu
Hands-on workshops: steel-guitar, fiddle, slack-key guitar, ukulele, banjo, falsetto singing, harmony singing, 19c Hawaiian music, and more
Old timey skills: blacksmithing, storytelling, foraging
LEARN A NEW OLD INSTRUMENT
Performers will sit with attendees and teach in workshops. All levels of ability welcome! Music in the old days was much more interactive – we're bringing that back.
COME DANCE!
We got good ole' fashioned Kachi kachi music and two of the best darned square dance callers you can find. Two beautiful outdoor stages!
HEAR FANTASTIC MUSIC
Top-notch musicians are comin' to put on a great show, mix it up with local musicians from Hawai'i, and discover new music.
Grammy award-winner Joel Savoy and Cajun Country Revival
Grammy award-winner Peter Rowan
Los Kauaianos
Foghorn Stringband
Pancho Graham and Friends
Roochie Toochie & the Ragtime Shepherd Kings
Ed Punua & Friends
Bad Penny Pleasure Makers
Nick Castillo
Ann Savoy
Lowbiscus
Fanny Guys
OTHER OLE 'KINE STUFFS FO DO
Blacksmithing workshops with Ted Shanks
Storytelling with Bill Alexander, the Appalachian Hippie Poet
Hear ground-breaking research on how mid-19c to 1914 Hawaiian music influenced US mainland musicians. (There's much, much more to the story than you think!) With Kilin Reece.
Campfire stories and songs from old Hawai'i with Ed Punua and Friends
Volunteer with Kaua'i Resource Conservation to learn about endemic plants and remove invasive ones
Private cabins are now all booked. Shared cabins and tent camping still available. Shower, bathroom, and shared kitchen facilities available on site.
Contact kauaioldtime@gmail.com to book accommodations.
Tickets:
Tickets provide entrance to all live stage performances and any workshop of your choice.
Early bird: $50/weekend or $20/day
After October 15, 2018: $25/day
To buy tickets and find out more: www.kauaioldtime.com.
If you are in need of ADA support for this event, please call 808-631-3455 or email kauaioldtime@gmail.com by Nov. 8.
Thank you to our sponsors: Kaua'i Office of Economic Development, Lafayette Travel, Marble City Hat Co., Hale Puna, and Koke'e Lodge