Humpback Whales in Eternity – Rescheduled due to rain Feb 25
Saturday, February 25th, 2023 at 5:00 pm

–

7:00 pm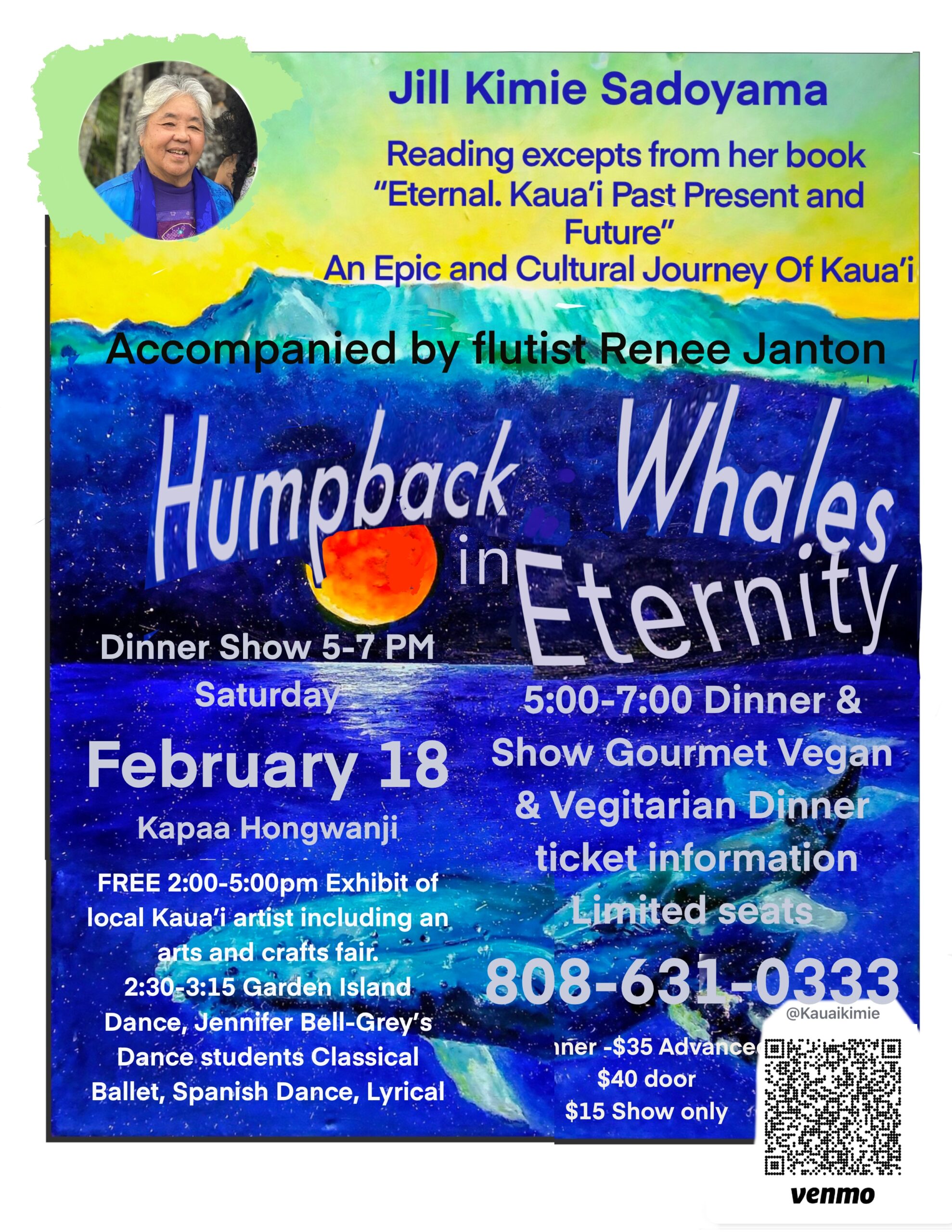 Saturday, February 18
2:00PM-5:00PM FREE Arts & Crafts Fair & Dance Presentation
5:00PM-7:00PM Jill Kimie Sadoyama Dinner Show – Local Artist, Poet, Writer & Performer
The evening event DINNER TICKETS on sale are $35 in advanced & $40 at the door. Guests can choose from a gourmet Vegetarian or Vegan Menu.
Show only tickets are $15
Children 12 and under Show only tickets are free
This event is a lot of fun and bring together several groups.
Ho'omana, Kauai's non-profit that supports and assists those who are emotionally, mentally & physically challenged, offered job training for homeless as well as weekly meals. They will be selling refreshments as fundraiser.
Local Kaua'i artist including ants and crafts fair will have vendor tables. Entrance is free from 2:00-5:00PM
About this event & Bio – Jill Kimie Sadoyama
Kimie graduated from Kapaa high school in 1969 and went to Pacific University in Forest Grove Oregon. The highlight of her college was when she spent a semester in Italy, Kimie visited the Duomo saw the David and took two correspondence courses from Pacific University history of art, and drawing and painting she graduated with a BA in studio arts and has written many poems and short stories.
Her short stories and poetry of Kaua'i tell the story of Kimie's life here.
And in the past, growing up, and then coming back to face all the present day challenges.  Kimie has lived on Kaua'i, in Portland, Bari Italy, Santa Fe, New Mexico, Denmark, and back again to Kauai. This book eternal Kauai past present and future tells the story of her life on Kauai. It is filled with the passion and hardships of the Filipinos, the trauma of hurricane Iniki, the awesome beauty and splendor of Kauai, and the resilience of its people fighting the poisoning of the GMO companies, and beyond it all, we must always remember that nature the humpback whales, the ocean's are our home, and with it comes this incredible responsibility this kuleana.
Kimie's son, Chris works for Waipa; This environment is rich with the kuleana of our ancestors, and the preservation of the environment for future generations. This show is dedicated to the Humpback Whales. The beings of this planet hold a memory so deep so profound that we have forgotten how precious this earth is and in memory of the whale that was beached at Lydgate she is doing her show.
For show tickets information please enter your email. Mahalo! kauaikimie@yahoo.com or call/text 808-631-0333
Related Events