Historic Hapa Trail Walk
July 21st, 2018 at 9:00 am
–
12:00 pm
|
FREE
Event Navigation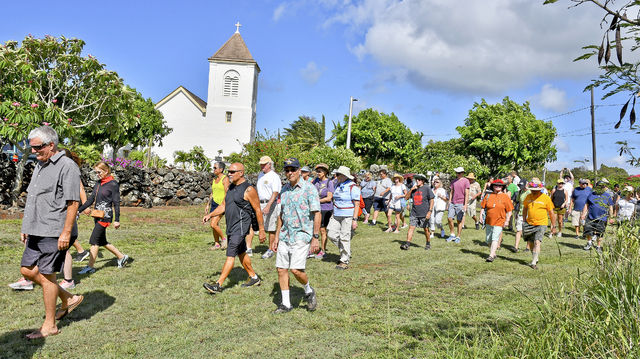 Hosted by Koloa Community Association and Hui Malama o Koloa
An easy morning walk along historic Hapa Trail by the Koloa Community Association. Meet your tour guides at St. Raphael's Church – this is the island's oldest Catholic church, so your historical tour is off to a good start.
Hapa Road Trail isn't used anymore, but it was once a major route connecting Koloa and the Poipu area. Today, Hapa Trail has been designated by the County of Kauai as a pedestrian and bike way.
On the walk, the guides will share many interesting stories about life in the plantation days and the Koloa Field System. They will share knowledge of archeological surveys, history and point out archeological sites and archeological preserves in the area including the extensive and ingenious 'auwai system the Hawaiians built to irrigate the area known as the Koloa Field System. The Koloa Field System occupied most of the southern portions of na ahupua'a of Koloa and Weliweli.
The Hapa Trail Restoration Committee and other members of the Koloa Community Association have worked hard to prepare Hapa Road Trail for this year's walk, spending mornings clearing the undergrowth so that walkers can view and experience the road in a state as close to the original road as possible.
Following the walk, participants will enjoy more chances to "talk story". The walk and tour is offered free of charge. Refreshments will be served!
All walkers will receive a brochure with a history of the area east and west of Hapa Trail, learning about na wahi kupuna (archeological sites and preserves), as well as the 'auwai system that irrigated the Koloa Field System.The 'auwai system started in the Waikomo Stream area of Koloa Town and irrigated all the kalo, kō and 'uala grown in this arid area today. Hapa Trail t-shirts also available for purchase.