HIRIE
Saturday, June 10th, 2023 at 5:30 pm

–

10:30 pm

$38.50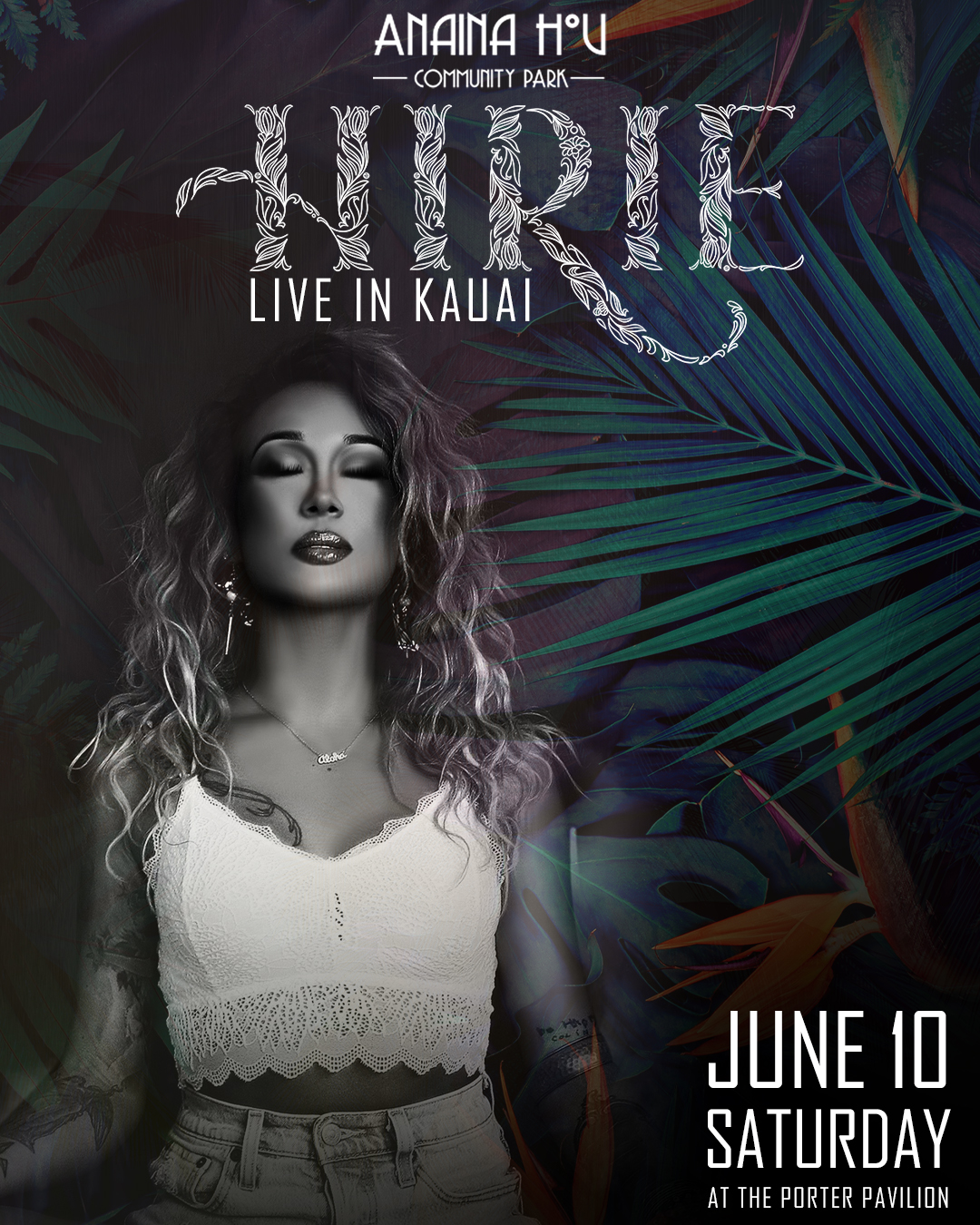 JUNE 10TH | 5:30 PM
$38.50 ADVANCE | $45.00 DAY OF SHOW
WHO IS HIRIE
One woman can truly do it all and make the world a better place as she goes. Hawaiian-raised reggae pop star HIRIE (born Patricia Jetton), boldly paves the way for women across all industries: she performs musical stages around the world, all the while preaching positivity, enlisting an open ear to those in need and remaining a loving wife and mother, to boot. HIRIE is the humble superstar who, even after a landslide of accreditation, still takes the time to thank and honor her loyal supporters, whether that be a special photo opportunity at a show, an online chat or a spur-of-the-moment meet-and-greet at her merchandise table.
But, before she was HIRIE, she was a girl with a gift. Growing up the daughter of a U.N. ambassador, HIRIE moved from the Philippines to Italy to Hawaii — gaining invaluable knowledge of the world and its various cultures at a young, yet adaptable age. However, the more she moved, the more she was bullied. Little girls can be nasty to newcomers. It was at this time that her father saw a shining light glowing deep inside his little girl (albeit shrouded in darkness), encouraging HIRIE to channel the bullying into musicianship and songwriting. "He knew that would be my outlet, pushing me towards the pen and paper, and the mic," HIRIE states. The brazen, confident woman that stands onstage today before tens of thousands wasn't always so self-assured. HIRIE admits her self-doubt freely and openly during her live performances, often sharing her bouts of depression, anxiety and her diagnosis of Bipolar Disorder to her diverse audiences. Instead of hiding away her faults, HIRIE embraces them. She has learned it's better to battle the stigma of mental health than to bury it. Through these personal experiences, HIRIE represents a beacon for mental health advocacy — an area often neglected within the music industry (and, let's be honest, everywhere else). It's okay to not be okay and HIRIE is here to help. "I feel and I feel and I feel," she explains. "I care so deeply about people that sometimes I forget how to just allow myself to self-love. My life's work is just to make somebody else feel better. I love people. I know that's so cliché. But, with my music, if I'm able to confront my own demons and it makes someone else feel more comfortable with who they are, I have no shame."
On top of mental health freedom-fighting, HIRIE further exudes a feministic attitude. From enlisting women stylists to women in the press to having talented women performing beside her onstage, a female-first agenda is prevalent in the world of HIRIE and heavily-executed. An epitome of this is found within the single "Woman Comes First", featuring similar-minded Australian reggae rebel Nattali Rize. The track — off HIRIE's 2016 Wandering Soul, an album rocketing to #1 on the Billboard Reggae Charts —hails back to the biblical days; even then, in days of "Adam and Eve", women came first. Other empowered offerings off the pop star's sophomore release include the songs "Queen" and "Melody Of A Broken Heart", in between satiable fan favorites, like "Boom Fire", "You Won't Be Alone" and "Don't Take My Ganja".
Yet, before HIRIE turned into a Wandering Soul, she first had to take roots. Living in San Diego and bouncing between open mic nights, HIRIE witnessed the start of her determined hard work paying off in the serendipitous meeting of multi-instrumentalist and producer E.N Young (then of Tribal Seeds), who agreed to produce her first album. The self-titled debut has since garnered over 6.7 million streams on Spotify after escalating to #4 on the Reggae iTunes Charts. Not too shabby for a first-timer! Doubling down on her success three years later with Wandering Soul (which rendered her an esteemed San Diego Music Award for 'Best World Album' in 2017), HIRIE now celebrates her third full-length album Dreamer, with over 4.2 million Spotify streams since its 2019 release.
Her most daringly authentic to date, Dreamer exposes the good, the bad and the large grey void of adulthood. "This album is about raw honesty," she discloses. "I feel like I was braver with exploring my emotional state and how that swings back and forth — allowing myself to be brutally honest." Introspective, forthright and unapologetic, songs like "I'm Messed Up" and "Message in a Bottle" resonate with all those who hear it. Unlike other pop stars posing on an unattainable and unrealistic pedestal, HIRIE is more tangible and relatable than ever — that's the HIRIE difference. Not HIRIE, who uses her bubble gum melodies to evoke empathy, push for change and set self limitations. She embodies a new era of pop celebrity that, we can only hope, continues through her example. Of course, album number three is more than just anthems of self-awareness, offering upbeat party songs, like the ultra-catchy "Put It Down" with Chali 2na and "I Like The Way You Roll", featuring Slightly Stoopid. You would think the overall result is an emotional rollercoaster of an album, but really, its differing tempo and timbre just adds to HIRIE's exceptional musical prowess. "A lot of times it was like, 'Let's write something fast.' 'Let's write something you can dance to.' 'This theme, let's go for this.' Everything you hear is a slice of me and my multiple personalities," laughs HIRIE.
Shortly after Dreamer's release, HIRIE (like the rest of the world) was ushered into quarantine. Instead of wallowing in her unexpected circumstances, HIRIE used the forced downtime as a blessing, exploring her talents for tattooing, recording new singles and even relocating her family back to her home island of Oahu. By the summer of 2020, HIRIE had followed up on her 2019 post-album single "She Go" with a sizzling new track "Bonfire", allowing listeners cooped up indoors a long overdue breath of fresh air. In 2021, HIRIE continued to pump out new music, including throwing props back to where you came from in "Respect", a collaborative single with rising reggae artist DENM, "Feel The Sunshine" with Hawaiian heavyweight Kolohe Kai and a fresh take on Shwayze's 2007 hit with Cisco Adler, "Corona and Lime". HIRIE also hit the road Summer and Fall of 2021 in support of reggae rock royalty Sublime With Rome and Dirty Heads. With her trusty band of players behind her and her doggy best friend Goji at her side, HIRIE is now barrelling into 2022 with a return back to the recording studio for her fourth full-length project.
What's first on the release list? A cosmic collaboration entitled "Youniverse" with Arise Roots frontman Karim Israel, emphasizing the notion of infinite energy as humanity's master design. Next, in a series leading up to HIRIE's highly-anticipated album reveal, is a team with Jamaica's Spragga Benz for the sultry single "I Miss You" (out now), as well as a pairing on Matisyahu's buzzworthy "Blacklist" — along-awaited track out July 22nd, 2022.
Show Details
5:30 PM DOORS OPEN
6:30 PM MUSIC STARTS
This is an all ages event. Patrons under 18 years of age must be accompanied by an adult. Children ages 5 and Under are Free.
No outside food or beverage permitted in the venue.
Beverage Concessions both Alcoholic and Non Alcoholic will be available throughout the show.
Bill's Kitchen and Full Concert Menu will be available throughout the show.
There will be a light bag search upon entrance.
Shirt and Shoes required for entrance.
No Re-Entry
Tickets
All tickets subject to tax and fees – Tickets available at anainahou.org
$38.50 ADVANCE
Available online right here and in person at Anaina Hou during regular box office hours of 10 AM – 2 PM 7 days a week.
$45.00 DAY OF SHOW
Related Events