HCT's Summer Stars Opens Registration NOW OPEN!
Thursday, March 1st, 2018 at 8:00 am
–
Tuesday, July 31st, 2018 at 5:00 pm
Event Navigation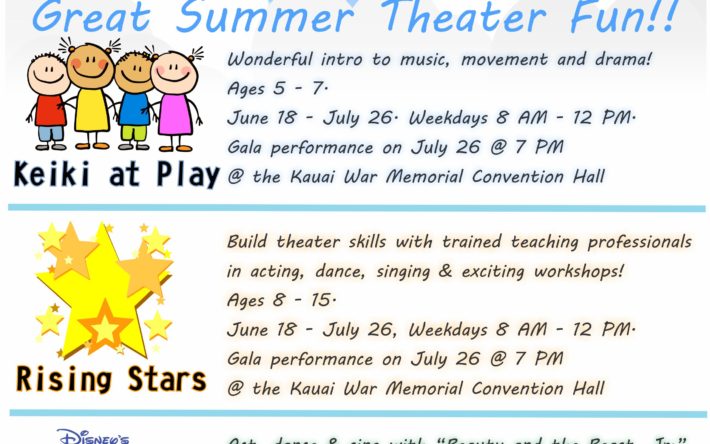 Registration is OPEN for Hawaii Children's Theatre – Summer Stars! This year's program will be held June 18-29 with Half Day and Full Day programs at Puhi Theatrical Warehouse with performances at Kauai War Memorial Convention Hall. Morning programs include "Rising Stars" (ages 8-15) and "Keiki at Play" (ages 5-7) from 8 AM – 12 PM daily with music, dancing, acting and theatre workshops and a final showcase performance on July 26. The Afternoon Program (ages 8-15 from 1 PM-5PM daily) will present a full production of "Beauty & the Beast, Jr."  with three performances on July 27-29 at the Kauai War Memorial Convention Hall. For details and registration forms visit www.hawaiichildrenstheatre.org or call the HCT Hotline: 808-246-8985.