Spring Slack Key Days Guitar and Ukulele Festival
Wednesday, March 14th, 2018 at 4:00 pm
–
8:00 pm
|
$10 – $25
Event Navigation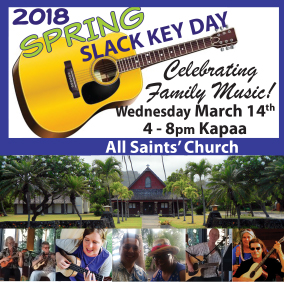 Celebrating family music!
Multiple performers will be joining Doug & Sandy McMaster (slack key guitar and ukulele) for a festival of family music.  Performers confirmed include  Ho'onani (ukulele duo), Kellie Lin Knott (award winning singer/songwriter), and Kawika & Kauilani (slack key guitar, ukulele, leo ki'eki'e), Lindsay Maclean (board certified music therapist, professional percussionist), and Doug & Sandy McMaster (traditional slack key guitar and ukulele, storytelling).
The festival is sponsored by Slack Key Music Center, a non-profit whose mission is to preserve and perpetuate the traditional family music of Hawaiian slack key.
Family friendly tickets
Teens, Adults, Seniors: Presale $20  At the door $25      Keiki: 0-5 yrs $0; Youngsters: 6-12 yrs $10
Call (808) 826-1469      Visit www.SlackKeyMusicCenter.org
Gift drawings throughout the festival.  Family event – Please no alcohol, drugs, or tobacco.
Proceeds support the All Saints' Pipe Organ Rebuild Project, the Slack Key Music Center programs, and this event. The pipe organ is Kauai's only pipe organ and was generously donated in 1925 by Mrs. S. W. Wilcox. To learn more about the Pipe Organ project
Directions:
The All Saints' Church is easy to find at 4-1065 Kuhio Hwy. in Kapaa, Kauai. It is 1/2 mile south of downtown Kapaa on the mountain side of the road next to the Sudz Car wash between the Shell and Texaco gas stations.
Tickets and more information:    Call (808) 826-1469
This facility is family friendly with nice grassy area and lanai for parents and children. Easy in and out with doors open all around the sanctuary space. Cooling, gentle tradewinds float through the sanctuary throughout the concert. Enjoy a meditating walk around the beautiful labyrinth. Sit under a magnificent tree and enjoy the music floating from the sanctuary.