Earth Day Community Work Day at Lydgate Park
April 22nd, 2017 at 7:30 am
–
12:00 pm
Event Navigation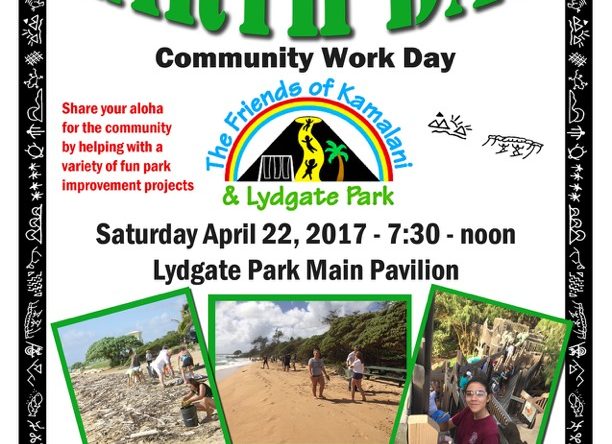 Join more than 150 of your Kaua'i ohana as they span out across the 50 plus acres of Lydgate Park to help paint the Kamalani Play Bridge, and clean up the park beach front and as well as the ancient Hikina'akala heiau and Pu'uhonua o Hauola "city of refuge" sacred sites during the 12th annual Earth Day Community Work Day, running from 7:30 am to 12 Noon, Saturday, April 22. The event is organized by the Friends of Kamalani and Lydgate Park.
You can learn more about volunteering with the Friends and register for the work day by visiting www.KauaiPath.org/Kamalani , or call (808) 639-1018. On the workday morning volunteers are asked to report to the Main Pavilion in Lydgate Park near Morgan's Pond. Volunteers are encouraged to bring a water bottle, work gloves, sun screen and wear appropriate shoes. Lunch will be provided! Come show your aloha spirit for the wonderful gift that is Lydgate Park!
Kicking off the morning at the park's main pavilion will be an unveiling of a series of interpretive signs at the park produced for the Kaua'i Nui Kuapapa cultural and historical project, geared to provide locals and visitors with a historical background of the land divisions and natural resources management the ancient Hawaiians employed.