E Pili Kākou I Ho`okahi Lāhui 2023
Friday, February 10th, 2023 at 8:00 am

–

Sunday, February 12th, 2023 at 12:00 pm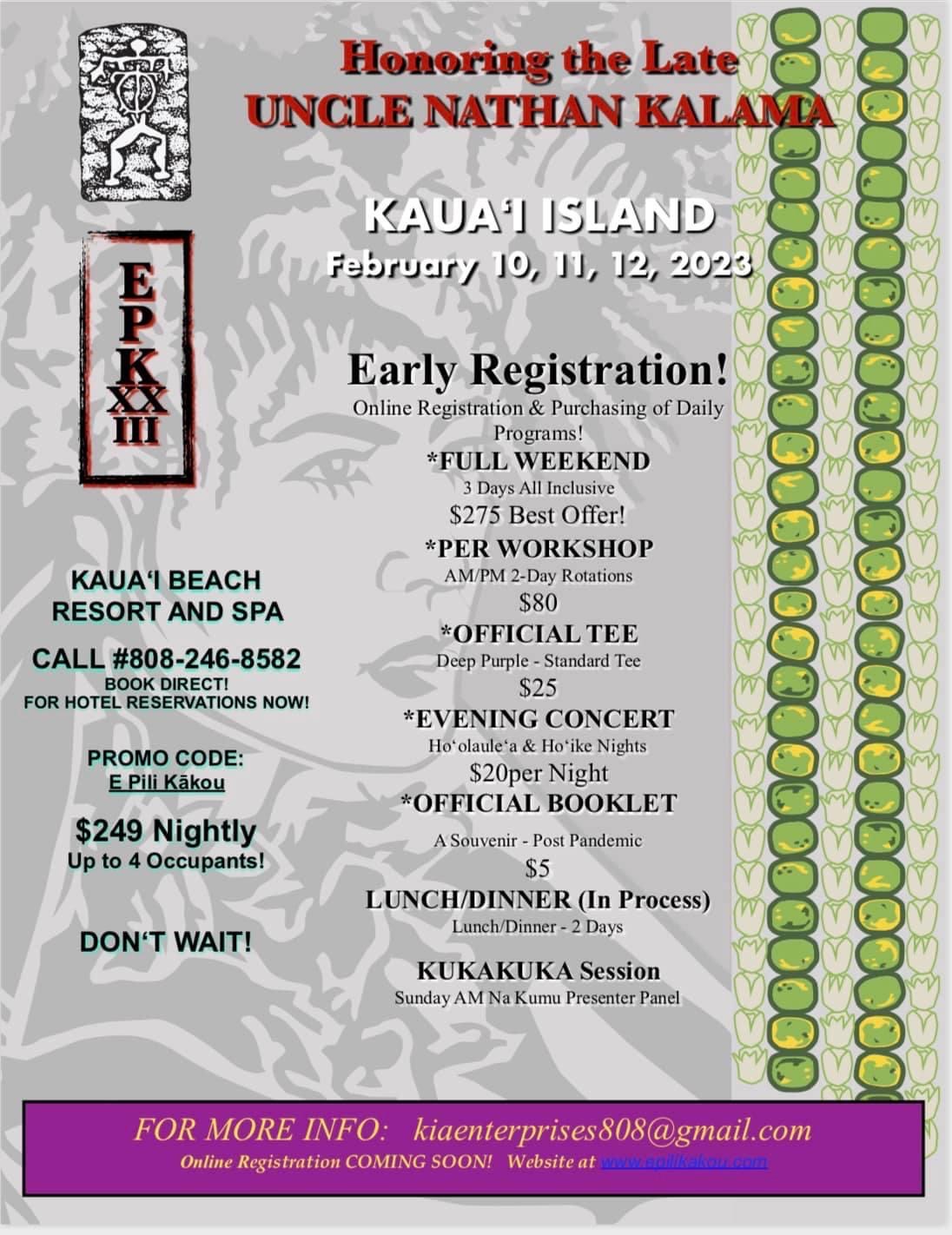 E Pili Kakou I Hookahi Lahui is a Kauai Event that brings together some of the world's best hula teachers (kumu hula), students of hula, and just everyday people who are interested to learn more about this ancient art.
The 2023 Event on Kauai will mark the 23rd year for E Pili Kakou I Hookahi Lahui, and it is expected to be better than ever. This is a retreat and conference during which participants will be instructed in hula and chanting, meet experts, and much more. Similar Events are held in Japan, Canada, Tahiti, Marqueses, and other locations.
The 2-day Event on Kauai includes workshops, question and answer sessions, special sessions, and a very special performance and celebration to wrap up this years' E Pili Kakou I Hookahi Lahui.
The purpose of the conference is to promote and share the rich culture of Hawaii which includes, of course, hula. There are 2 different types of hula, and both are covered at E Pili Kakou I Hookahi Lahui.
The first, hula kahiko, is the traditional style of hula. This includes drumming and chanting along with the dance, and it all works together to tell a story. Some were afraid this art form was going to die out, and even kings took step to keep it alive. Today, E Pili Kakou I Hookahi Lahui is one more way to ensure that this Hawaiian custom is not lost.
The other type of hula dancing is hula auana. This is a modern twist on the hula in which the majority of the story is told through movement. Rather than chanting, the dance is accompanied by ukulele or guitar music.
Whether you are an experienced hula dancer or you just want to learn a bit about this ancient art, consider registering for this popular Event on Kauai.
Related Events