E Kanikapila Kakou — Celebrating 35 Years of EKK
Sunday, January 14th, 2018 at 11:00 am
–
4:00 pm
|
$85.00
Event Navigation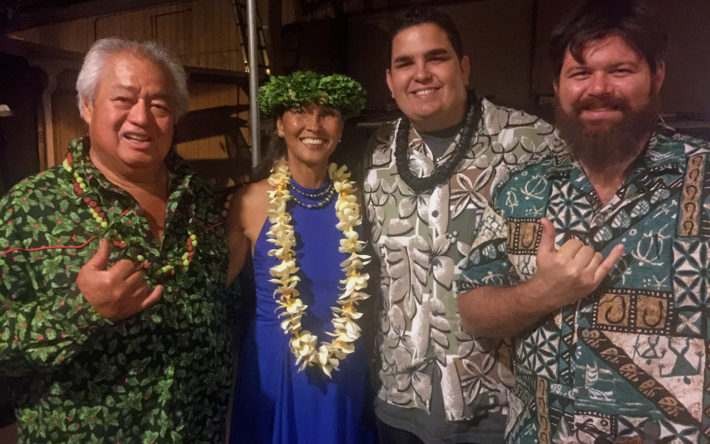 What is EKK?
E Kanikapila Kakou — it means, literally, let's play music — gets people together on Monday evenings (plus two Sundays this year) to celebrate a huge cultural aspect of Hawai`i — its music, song and hula. A stellar cast of musicians, composers, kumu hula, storytellers, and artists steeped in Hawaiian music, dance and culture share their unique talents with you. Often, spontaneous hula breaks out while the guest artists perform, and at some point, the audience members that learned a new song earlier come forward to the stage to play it for the crowd. That's a lot of Hawaiian music packed into 13 dates! Standard Monday night times are 6 p.m. to 9 p.m. The first hour is spent in break-out group(s). The audience is encouraged to bring a stringed instrument and participate in learning a song, usually a composition by the guest artist(s). In the next two hours, the guest artist(s) take to the stage and it's time for a  backyard jam in the ballroom.
For non-ticketed events on the Monday nights, we ask for a donation in the calabash — $10 suggested — but nobody has ever been turned away due to lack of funds. All events will be held at the Kaua`i Beach Resort in its Jasmine Ballroom. Kaua`i Beach Resort offers a no-host limited food and beverage service right in the ballroom.
About the 35th Season of E Kanikapila Kakou
This season, E Kanikapila Kakou 2018 will consist of a total of 13 events. Our first event is one Sunday jammed with 5 sessions of workshops led by  by Uncle George Kahumoku and his folks. The date is Sunday, January 14. But you'll see from the full season calendar below that most of the events are on Mondays.
In addition to Uncle George's workshops, there are two ticketed concerts — one on Sunday, January 28 featuring Led Kaapana with Jesse Gregorio on bass; and the other on Monday, March 19 featuring Makana. And of course,  there will be the regular Monday nights of three-hour sessions that will immerse you in Hawaiian music and usually, lots of hula.
About the January 14 Workshops
Uncle George Kahumoku is a world-class musician and a celebrated teacher — and chef! On Sunday, January 14 from 11 a.m. to 4 p.m., the place to be will be at EKK, attending a series of 5 music workshops plus private-order lessons.
Session 1 will be held from 11 a.m. to noon and consists of Beginning `Ukulele, taught by Max Angel.
Session 2 will be held from noon to 1 p.m. and features Uncle George Kahumoku Jr. teaching Slack Key `Ukulele.
Session 3 will be held from 1 p.m. to 2 p.m. and consists of lunch — included in the workshop fee — with Hawaiian music and singing.
Session 4 will be held from 2 p.m. to 3 p.m. and consists of two options: either Slack Key Guitar F Tuning with Uncle George Kahumoku; or Slack Key Guitar C tuning with Sterling Seaton.
Session 5 will run from 3 p.m. to 4 p.m. and feature Wainani Kealoha teaching participants the hula.
Workshops Registration and Other Details
Fee — $85 per person, includes lunch — be sure to place lunch order.
To register, to arrange a private lesson, to select lunch — and everything else for the Sun. Jan. 14 Workshops — send request to: giac05@icloud.com
Scholarships are available for students.
Next at EKK:
Tomorrow night, Monday, January 15, 2018, from 6 p.m. to 9 p.m., is the official opening night of the EKK SEASON 35 and our regular Monday sessions. Our guest presenters will be George Kahumoku, Jr., Sterling Seaton, Max Angel and Nancy Kahumoku. 6 p.m. to 7 p.m.: Instrument lessons — learn a song by the composers. 7 p.m. to 9 p.m.: Artists take to the stage and it's glorious! Music, hula, no-host food and beverages — great fun and entertainment.
Monday, January 22, 2018, 6 P.M. to 9 p.m. — Jeff Peterson. Get a look at his knock-out bio at  http://jeffpetersonguitar.com/site/artist/jeff-peterson. He's a consummate artist.
Sunday, January 28, 2018, 7 p.m. to 9 p.m. — Ticketed Concert.  Led Kaapana leads with Jesse Gregorio on bass. You might like to know that Uncle Led is a recipient of the 2011 National Heritage Fellowship awarded by the National Endowment for the Arts, which is the highest honor in the folk and traditional arts in the United States! Preferred Seating/$35, available at www.brownpapertickets.com. General Admission tickets/$30, available at Kauai Music & Sound; Kamoa 'Ukulele Company; Scotty's Music House; Island Soap & Candle Works in Koloa; Da Wine Shop; Kalaheo Café & Coffee Co.; Banana Patch Gallery; and Hawaiian Music Hut  in Princeville.
Monday, January 29, 6 p.m. to 9 p.m. — Malie Foundation — Community Hula Night. The Jasmine Ballroom rocks with hula all night long. Audience members have the chance to learn a hula and later, dance it for the rest of the audience.
Monday, February 5, 6 p.m. to 9 p.m. — Aldrine Guerrero. An amazing young man who rivals top `ukulele players with his fingers of lightning and compositions that show his talent to da max.
Monday, February 12, 6 p.m. to 9 p.m. — Mark Yamanaka with Bert Naihe and Edward Atkins. One thing Hawaiian music lovers cherish is the range of voices, and Mark's one of the great falsetto singers.
Monday, February 19, 6 p.m to 9 p.m. — Ku`uipo Kumukahi and Friends.
Monday, February 26, 6 p.m. to 9 p.m. — 6 p.m. to 7 p.m.: Da Aunties Four What? – Makaala Kaaumoana, aka Auntie Choppa;  Hob Osterlund, aka Auntie Kayden; Sandy Wann Swift, aka Auntie Tita;  and Sabra Kauka, aka Auntie Koo, perform in a comedy sketch titled What he said? Understanding Hawai`i's Pidgin English. From 7 p.m. to 9 p.m. — Darlene Ahuna, Tani Waipa and Duane Yamada from Hawai`i Island get musical onstage.
Monday, March 5, 6 p.m. to 9 p.m. — Kuhio Travis. 6 p.m. to 7 p.m. 'ukulele hour led by the ever-popular Lady Ipo Kahaunaele.
Monday, March 12, 6 p.m. to 9 p.m. — Herb Ohta, Jr., Bryan Tolentino, Chris LKW Kamaka, Christopher Kamaka Jr., Casey Kamaka. At 6 p.m.: Introducing the Kamaka 'Ukulele Family — video and talk story. From 7 p.m. to 9 p.m.: Herb Ohta, Jr. and Bryan Tolentino; Kamaka Family
Monday, March 19, 7 p.m. to 9 p.m. — Ticketed Concert. featuring Makana a prodigy who studied with the greats in slap key guitar. From Wikipedia: "Makana, one of Hawai`i's best love musical artists in both classical and modern Hawaiian music, was  born and raised in Hawaii. His guitar playing has been featured on three Grammy-nominated albums, including the soundtrack of the Academy-Award winning film "The Descendants", starring George Clooney.[2][3] In 2008, he was second runner up in Guitar Player Magazine's Guitar Superstar competition eliciting praise from judges Steve Vai, Joe Satriani, and Elliot Easton.[4] In 2012, he was awarded one of Hawaii's top musical honors: a Na Hoku Ki Ho'alu (Slack Key) Legacy Award (Hawaii's "Grammy") by the Hawaii Academy of Recording Arts."
Read more online. Makana holds Kaua`i near and dear to his heart and gives us his all. Don't miss him! I have never been to  Makana concert where a seat was left open. Get your tix pronto!
_ _ _ _ _ _ _
E Kanikapila Kakou is a program of the private, nonprofit Garden Island Arts Council. Funding for the EKK program is once again made possible by a grant from the Hawai'i Tourism Authority and managed by the Kaua'i County Office of Economic Development. The Kaua`i Beach Resort lends partial support to the program. This event is made possible with support from the Hawai'i State Foundation on Culture and the Arts.
For more information about the 2018 E Kanikapila Kakou season, contact: giac05@icloud.com; or visit online at www.gardenislandarts.org; OR Facebook: ekanikapilakakou.kauaistyle