E Kanikapila Kakou 2023, Week 1: Remembering Carlos Andrade
Monday, February 6th, 2023 at 6:00 pm

–

8:30 pm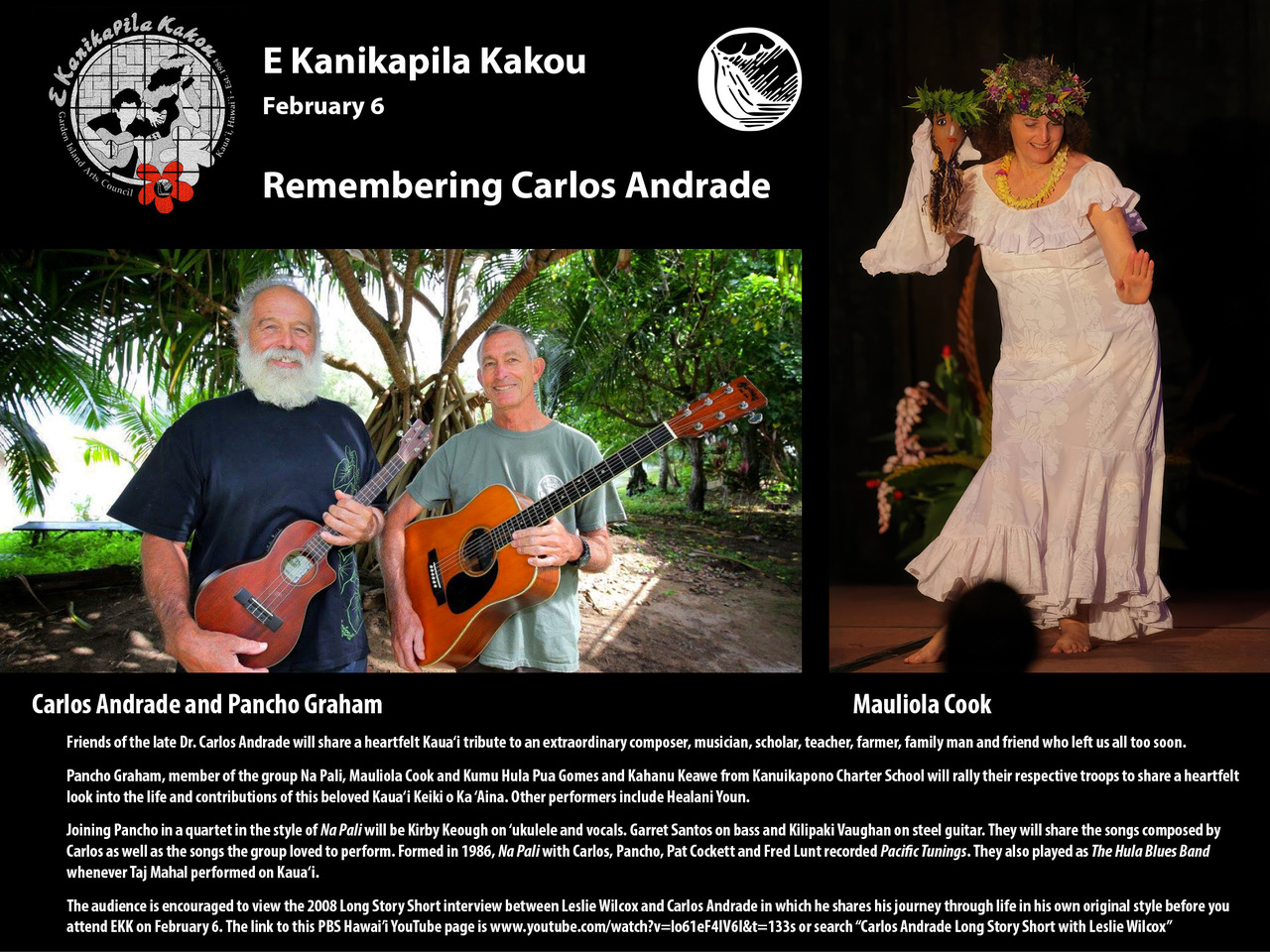 E Kanikapila Kakou turns 40!
Remembering Carlos Andrade
Coming up is the first of eight Monday nights and one Tuesday night in the heritage Hawaiian music program, E Kanikapila Kakou, now in its 40th season.
Friends of the late Carlos Andrade, PhD, will share a heartfelt Kauai tribute to this extraordinary composer, musician, scholar, teacher, farmer, family man and friend when Pancho Graham, a member of the group Na Pali; Kumu Hula Mauliola Cook, Kumu Hula Pua Gomes and Kahanu Keawe of Kanuikapono Charter School rally their respective troops to delve into the life and contributions of this beloved Kaua'i Keiki o Ka `Aina.  Healani Youn will share her exquisite hula stylings to the program.
Joining Graham in a quartet in the style of Na Pali will be Kirby Keough on `ukulele and vocals, Garrett Santos on bass, and Kilipaki Vaughan on steel guitar. They will share songs composed by Andrade as well as songs the group loved to perform.
Na Pali formed in 1986, with Andrade, Graham, Pat Cockett and Fred Lunt recording Pacific Tunings. They also played as The Hula Blues Band whenever Taj Mahal performed on Kaua'i.
Prior to attending the opening concert, EKK encourages attendees to view the 2008 online Long Story Short interview of Andrade by Leslie Wilcox. In it, he shares his journey through life in his own original style. Link to this PBS Hawaii YouTube page at: https://www.youtube.com/watch?v=lo61eF4IV6I&t=133s.
ABOUT EKK
EKK is the Grassroots Heritage Hawaiian Music program of the nonprofit 501(c)3 Garden Island Arts Council. Translated to English, E Kanikapila Kakou means, literally, "Let's play a stringed instrument together."
Program dates are 8 Mondays, on February 6, 13, 20, 27; March 6, 13, 20 and 27. One special concert takes place on Tuesday, February 28.
EKK is held at the Jasmine Ballroom of the Kaua`i Beach Resort, where the doors open at 5 PM. Most nights will have an 'ukulele/hula hour, and the main program runs from 6 PM to 8:30 PM.
Pay at the door or get tickets at Eventbrite: ekk2023.eventbrite.com
Note: children under the age of 12 are admitted free to the Monday EKK sessions only.
For more information, e-mail us at giac05@icloud.com
Check out the Garden Island Arts Council Website at: gardenislandarts.org; or link to our EKK FB site at: https://www.facebook.com/ekanikapilakakou.kauaistyle/
Related Events