E Kanikapila Kakou 2023, Tuesday, February 28: "Sending Aloha to Halau Ka Lei Mokihana o Leina'ala"
Tuesday, February 28th, 2023 at 6:00 pm

–

8:30 pm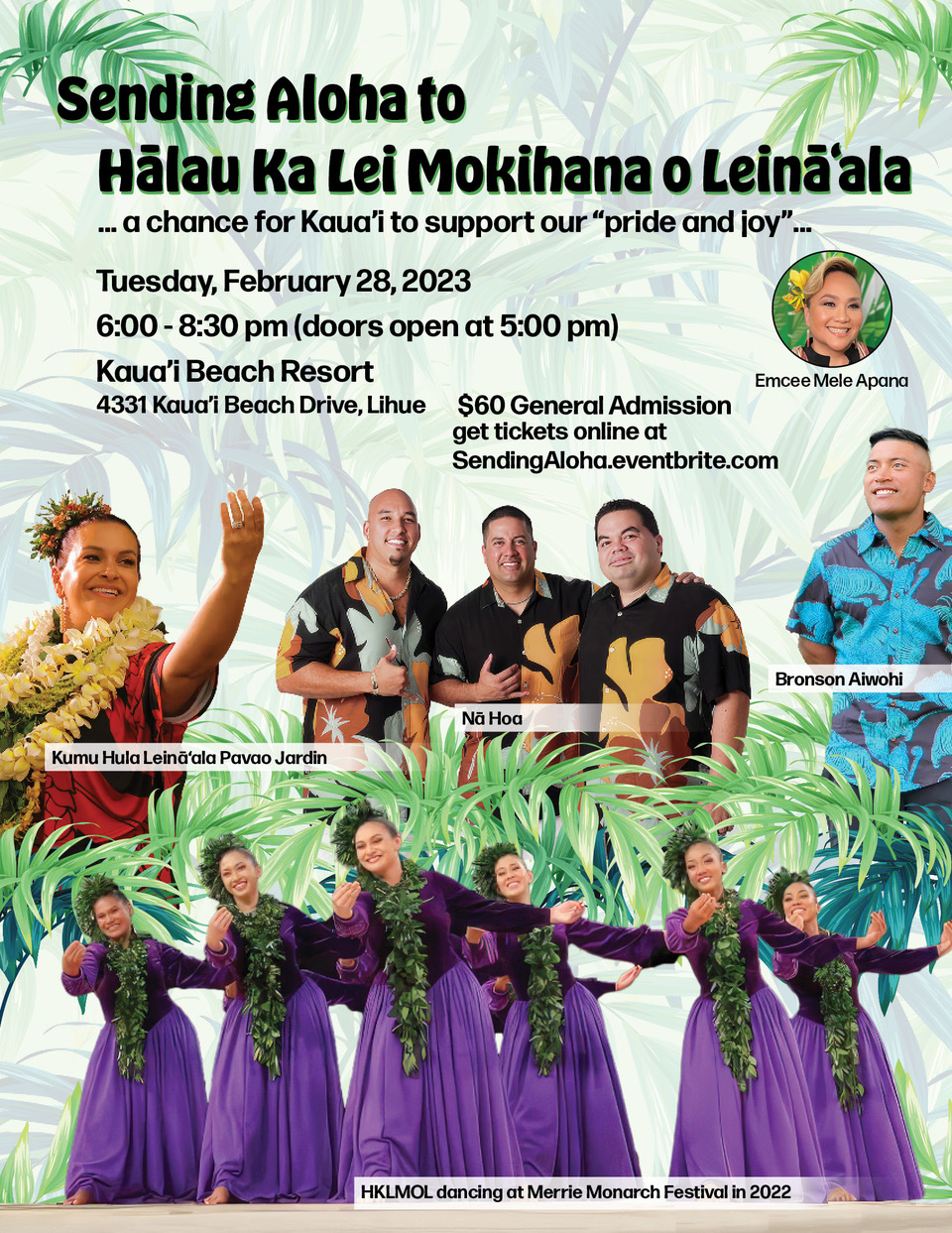 "Sending Aloha to Hālau Ka Lei Mokihana o Leināʻala"
E Kanikapila Kākou is presenting a special concert on Tuesday, February 28, to support the "pride and joy" of Kauaʻi, Hālau Ka Lei Mokihana o Leinā'ala, as they embark on their 2023 participation in the Merrie Monarch Festivals in Hilo, Hawaiʻi this upcoming April.
As overall winner of the 2022 Merrie Monarch Festival, Kumu Hula Leinā'ala Pavao Jardin and her hālau returned to Kauaʻi and hit the ground running as they came to EKK 2022 to be congratulated and honored by the Kauaʻi audience.  They have not rested for a moment as they have performed at many community events and concerts throughout the year with the same beauty and grace they exhibited on the MM stage.
We are so proud of them and wish to invite the Kauaʻi community to join us in supporting Kumu Leināʻala and her wonderful dancers by sponsoring a ticketed concert with all proceeds going toward the support of the Hālau. Since we can't all go to Hilo, we bring a special slice of the Festival to our Kauaʻi audience.
They will be joined by the Nā Hōkū Hanohano award-winning trio Nā Hoa with Ikaika Blackburn, Halehaku Seabury, and Keoni Souza who are their musicians for the Merrie Monarch. Opening the program will be the beautiful voice of HKLMOL, Bronson Aiwohi and his band.
The Concert will be held at the Kauaʻi Beach Resort Jasmine Ballroom, 4331 Kaua'i Beach Drive, Lihu'e, on Tuesday, February 28 from 6:00 – 8:30 pm; doors open at 5:00 pm.
$60 General AdmissionTickets for the concert are available at Link: Sendingaloha.eventbrite.com 
Related Events