E Kanikapila Kakou 2020 – Festival Opening Hula, Mele, & Moolelo
Monday, January 20th, 2020 at 6:00 pm
–
9:00 pm
Event Navigation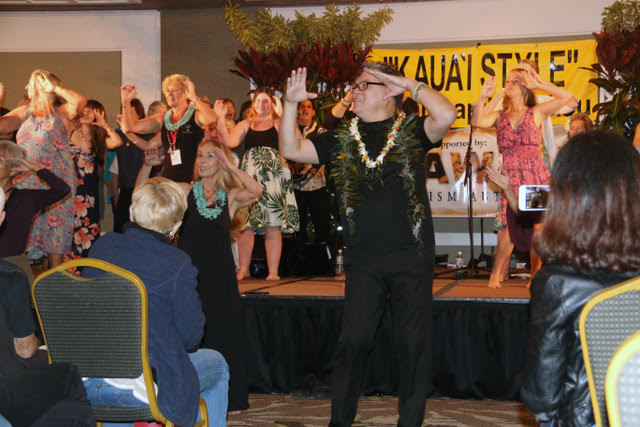 EKK 2020 – "Hula, Mele & Mo'olelo" — opens its 37 th season on Monday, January 20, from 6:00 – 9:00 p.m. with the Community Hula Night, a crowd favorite, hosted by the non-profit Malie Foundation under the leadership of Maka Herrod and Nathan Kalama. Four dynamite kumu hula will be teaching hula to guests during the first hour;
all will be able enjoy two hours of show-your-stuff hula as all groups take turns dancing the hula they learned earlier. It's a true delight for dancers and onlookers. The Jasmine Ballroom of the Kaua`i Beach Resort will be hopping with hundreds of hula dancers.
All EKK events are held in the Jasmine Ballroom of the Kaua`i Beach Resort from 6:00 to 9:00 p.m. A suggested donation in the calabash of $10 -$15 treats you to an unforgettable evening of aloha from the heart.
A no-host bar and food concession in the ballroom operates throughout the event.  All EKK events are open to the public.
If you have a disability and need assistance please email Carol Yotsuda at giac05@icloud.com.
The E Kanikapila Kakou 2020 Hawaiian Music Program is funded in part by Hawai`i Tourism through the Community Enrichment program, supported by the County of Kaua`i Office of Economic Development, the Kaua`i Beach Resort, and the Garden Island Arts Council and EKK supporters.