E Kanikapila Kakou 2019 Week 5
February 18th, 2019 at 6:00 pm
–
9:00 pm
Event Navigation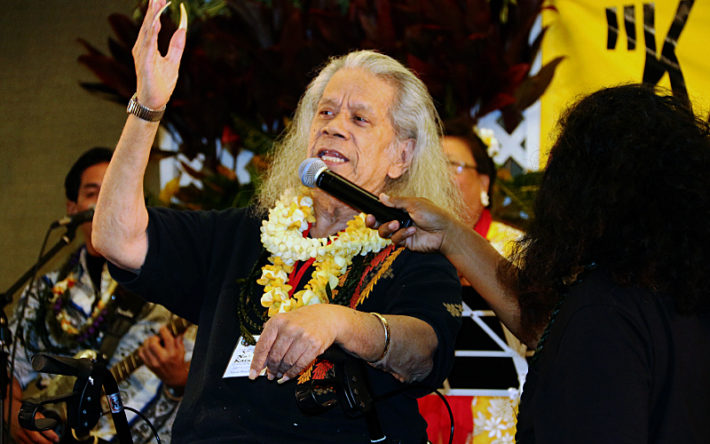 Hula All Over the Place & `Ukulele Paradise
It's the fifth of 10 Monday nights in the heritage Hawaiian music program, E Kanikapila Kakou, now in its 36th season. This Monday's guests at EKK will provide choke (lots of) hula —  learn a hula from 6 p.m. to 7p.m.; enjoy an hour of `ukulele music by a Japanese group from 7 p.m. to 8 p.m.; and after a short break, show-your-stuff hula until 9 p.m.
It is in the second hour that `Ukulele Paradise, a troupe of `ukulele students and music professionals from Japan will take to the stage and share their love of Hawaiian music. It's no secret that the Hawaiian culture is strongly embedded in Japan, whose islands boast many thousands of hula practitioners, and an ever-growing number of `ukulele players. Also, almost every week during the EKK season, Japanese visitors may be found in the audience.
In the final hour, all four earlier breakout groups take showing off the hula they learned earlier, and local musicians give the audience what they love — more and more  Hawaiian music. It's a true delight for hula dancers and onlookers. 
All EKK gigs are held in the Jasmine Ballroom of the Aqua Kaua`i Beach Resort, located near Lihu`e Airport. A suggested donation in the calabash of $10 to $15 or more treats you an unforgettable evening of aloha from the heart.
A no-host bar and food concession in the ballroom operates throughout the event. All EKK events are open to the public.
If you have a disability and need assistance please email Carol Yotsuda at giac05@icloud.com
The E Kanikapila Kakou 2019 Hawaiian Music Program is funded in part by the Hawai`i Tourism Authority, supported by the County of Kaua`i Office of Economic Development, the Kaua`i Beach Resort and the GIAC/EKK supporters.
Garden Island Arts Council programs are supported in part by the State Foundation on Culture and the Arts through appropriations from the Hawai`i State Legislature and the National Endowment for the Arts
Next Monday at EKK, Week 6, February 25: MAUNA HAPE, comprised of Jeff Au Hoy, Adam Asing and Kapono Lopes take to the stage.