ANNUAL KAUAI SUFI RETREAT
Thursday, March 15th, 2018 at 7:00 pm
–
Saturday, March 17th, 2018 at 6:00 pm
|
varies
Event Navigation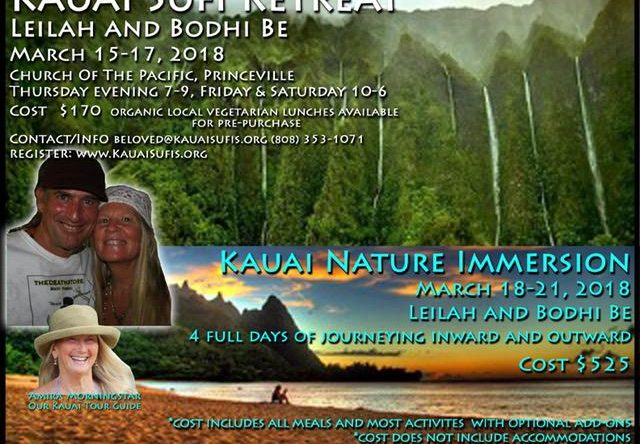 KAUAI SUFI RETREAT
LEILAH AND BODHI BE
MARCH 15-17, 2018
The Church of The Pacific, Princeville
Annual Kauai Sufi Retreat with Leilah and Bodhi Be will start Thursday night, March 15th (open to everyone) and continue all day Friday and Saturday, (3/16 &17) at The Church of The Pacific.
EARLY BIRD DISCOUNT:  UNTIL 2/15, $170. / AFTER 2/15, $220.
ONE DAY:  UNTIL 2/15, $85./ AFTER 2/15, $105.
Thursday Night Dance is $10-15 love offering.  No one turned away for lack of funds.  Open to everyone.
Organic local vegetarian lunches available for pre-purchase.
Registration & Info:   < kauaisufis.org >
Call Eana to register at 808-353-1071 or email Beloved@kauaisufis.org
YOUTH DISCOUNTS AVAILABLE.  WE INVITE YOU TO JOIN US!
If you are under 35 we really want to make it work for you to come join us. Your radiance and vigor uplift our circle and there is deep wisdom in this path that we wish to share with you. We will work with each of you on an individual basis according to your financial needs.
Info: AMIRA 808-346-1074 < myricabliss@gmail.com >
Leilah Be
A senior teacher (Murshida) in the Sufi Ruhaniat International. She studied for 24 years with Sheikh Yakzan Valdez & Pir Moineddin Jablonski. She is an inspiring presence; authentic, warm, patient, kind and accessible and brings a depth of devotion and realization that takes the dances and zikrs into a realm of spiritual beauty. Gardening meditation is a favorite activity. Leilah teaches on Maui and leads retreats throughout the world.
Bodhi Be
Bodhi is a teacher, guide, minister and student in the Sufi Ruhaniat International. He is the executive director of Doorway Into Light a non-profit in the fields of death and dying. A Hospice Volunteer, End-of-Life and Bereavement Counselor, Funeral Director, Death Doula and Ceremony Guide, an off-the-grid homesteader and grandpa.
The Annual Sufi Retreat is followed by
KAUAI NATURE IMMERSION
March 18-21, 2018
Leilah and Bodhi Be
Kauai Tour Guide Amira Morningstar
4 full days of journeying inward and outward.
Kauai Nature Immersion Cost $525 includes all meals and most activities with optional add-ons.
*Cost does not include accommodations
Kauai Nature Immersion is a 4 day residential retreat on a beautiful estate. We welcome you to join us for a morning, afternoon or evening session, a full day, with or without meals included.
Our pricing for a la carte segments are $35 per session or $100 for a full day. Add on $15 for lunch or $20 for dinner. In general, meal reservations should be made 2 days in advance to insure there is enough for everyone. However, it's often the case that there is more than enough when Bindi does the meal preparation, so feel free to ask at the time as well.
For the Nature Immersion it is a little bit difficult to know our schedule ahead of time because we need to take in weather considerations, the energy of the day, the energy of our group etc. We have so many delightful options come rain or come shine. So we will be making our choices more "in the moment." Hence we thought maybe we could send out a group text for anyone who is interested letting you know where we are headed for the day. IF YOU WISH TO BE INCLUDED ON THAT TEXT GROUP PLEASE LET ME KNOW (Amira) 808-346-1074.