4th Annual Social Awareness Film Festival (SAFF) – Weekend 1
Thursday, February 16th, 2023 at 5:30 pm

–

10:00 pm

Free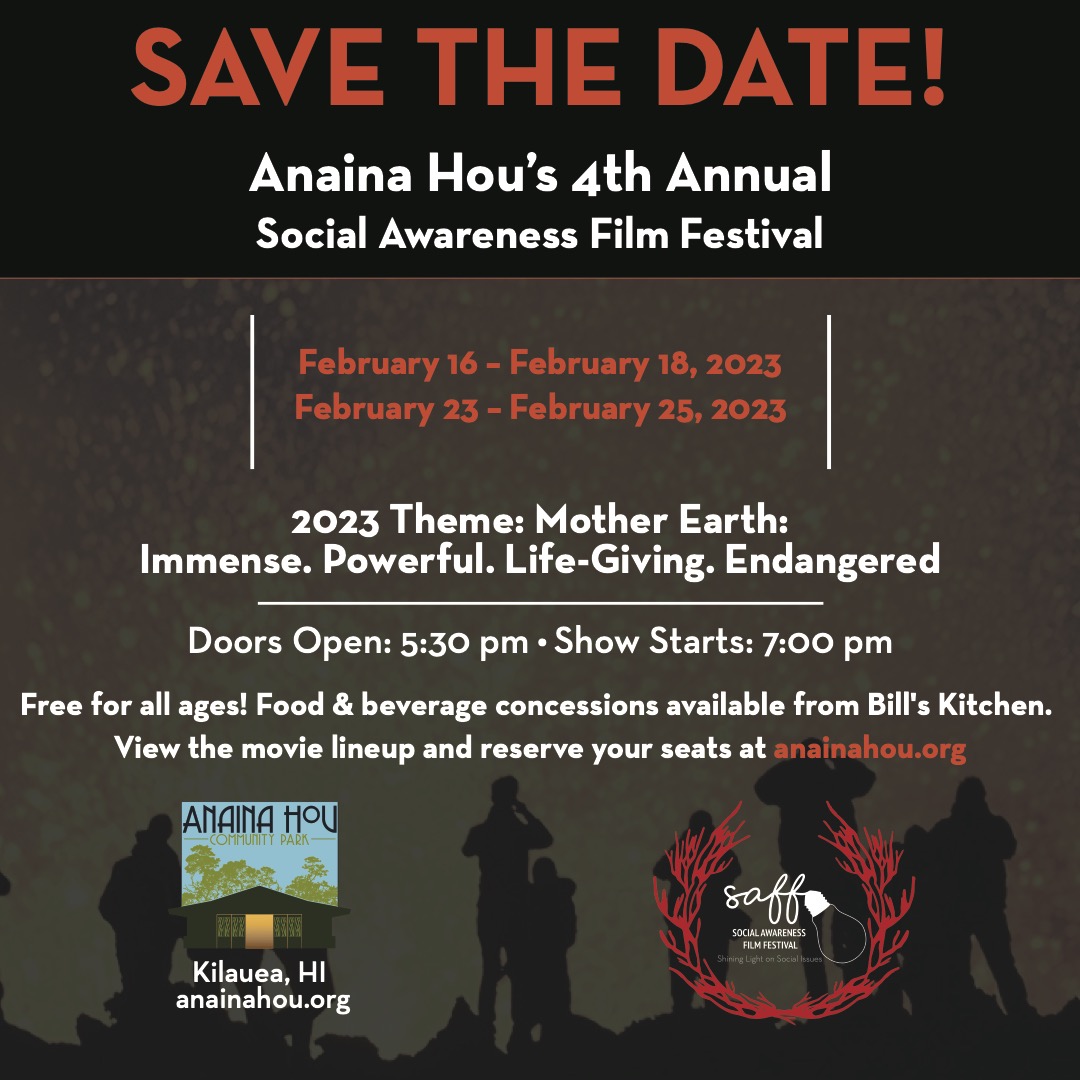 The 4th Annual Anaina Hou Social Awareness Film Festival
We will feature a theme each year that focuses on the opportunity to enlighten and create understanding on a broad range of topics that speak to the challenges and beauty of being a human being on this amazing planet; things like agriculture, the environment, and climate change, art & culture, socio-economic issues, LGBTQIA+ issues, geopolitical issues, revolutionary and reformist changes, race, religion, and immigration. This year's theme will be "Mother Earth"
Each year, Anaina Hou's Social Awareness Film Festival features a theme that focuses on the opportunity to enlighten and create understanding on a broad range of topics that speak to the challenges and beauty of being a human being on this amazing planet; things like agriculture, the environment and climate change, art & culture, socio-economic issues, LGBTQIA+ issues, geopolitical issues, revolutionary changes, race, religion and immigration. The theme for this year's SAFF is Mother Earth.
We continue to evolve our attendance options for each film to make the SAFF experience safe, compelling, and accessible for visitors and community on island and around the globe.
This year, all showings are 100% FREE!
February 16th-18th & February 23rd – 25th | Doors open 5:30pm & Film begins 7pm
Full Film Lineup will be on our social accounts ~ Instagram / Facebook:  @anainahou
Related Events