19th Annual Plantation Days Paniolo Heritage Rodeo
July 21st, 2018 at 11:00 am
–
3:30 pm
|
Various
Event Navigation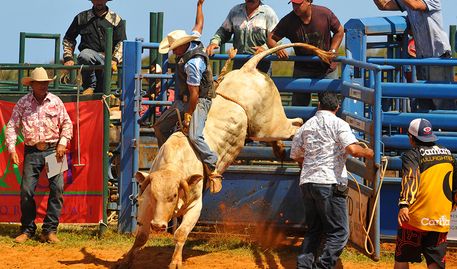 Rodeo is a big sport in Hawaii, you'll be amazed at the level of competition displayed by our contestants. Hawaiian paniolo (cowboys and cowgirls) have been top rodeo competitors since Ikua Purdy of Waimea, Hawaii, won a national roping contest in Wyoming in 1908. From little keiki on up, ropers and riders throughout Hawaii compete in numerous events every year.
This years 19th Annual Koloa Plantation Days Rodeo will feature Bull Riding, Wild Cow Milking, High Dollar Team Roping, Barrel Racing, Break-away Roping, and Hawaiian's own events Po'o Wai U & Double Mugging. The young keiki cowboys and cowgirls will get into the action with Mutton Busting (sheep riding) Keiki Barrel Racing, Jr. Steer riding and Kids Stickhorse / Dummy Roping.
Saturday is our "Paniolo Heritage Rodeo" from 11:00 to 3:30 with our first round of rodeo events including Bull Riding, Double Mugging, Kids Mutton Busting, Team Roping and our new event Wild Cow Milking. In addition to the exciting events will be a tribute to the Hawaiian Cowboy the Paniolo. There will be a special grand entry, educational booths, Hawaiian themed foods, workshops and displays to honor our past.
Admission $10 at gate, presale tickets online $8, kids under 12 are free
Free parking
For more information, click HERE